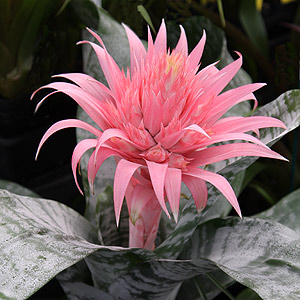 An outstanding easy care Aechmea with silvery grey green foliage and very long lasting pink flowers, Aechmea fasticata 'Primera' is one of the best examples of this South American rainforest plant.
A 'Tank' or 'Urn' type bromeliad that collects water in the central stem area it is also a very easy plant to grow indoors. Also known as the 'Silver Vase' bromeliad, this is a plant that gets better looking as it gets older, the foliage develops more of silvery grey look and then those wonderful pink flowers.
The joy of the plant is a mature specimen in full flower. The sad part is that they flower once and die. However they do freely send out offsets or 'pups'.
To grow a specimen that has all of the attributes of the one pictured you will need to take a little extra care.
Plants can take 2- 4 years to flower from an offset, so be patient. Over this period they set as many as 4 – 5 pups.
Aechmea fasticata 'Primera' unlike the species this variety does not have the spines on the foliage.
Aechmea fasticata 'Primera' Care
You could grow Aechmea fasticata 'Primera' outdoors in USDA zones 9b – 11. However they are mostly grown as indoor plants and make good specimens.
Light – Strong filtered light, with perhaps some morning sun. In very strong sun the foliage can burn, taking away some of the charm.
Watering – The 'Urn' should be filled with water, however it need to be flushed clem every 4 weeks. The growing medium should be only just damp and allowed to dry a little between waterings. Some extra humidity can be achieved my misting, or by sitting the potted plant on pebbles over a saucer of water.
Soil/ Growing medium – Use a medium to fine orchid mix.
Propagation –
Easiest by removal of the pups once they are of a good size 4 – 6 inches in height.
Summary Information
Botanical Name : Aechmea fasticata 'Primera'
Common Name : 'Silver Vase' Bromeliad
Family Name : Bromeliaceae
USDA Zone : 9b – 11 Outdoors
Height : To around 18 inches
Spread : To around 14 inches
Growth Rate : Medium to slow
Flower colour – Pink.
Flowering Time – Winter to Spring depending on the zone
Soil : Humus rich, moist and well drained
Light : Light shade.
Humidity : Medium
Container Growing : Yes
Frost Tolerance : Light to medium frosts only
Drought Tolerant : Medium