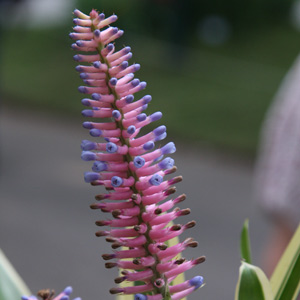 Aechmea plants and species are available for sale online and from most good garden centres.
Aechmea fasciata and blanchetiana are two of the most popular bromeliads are in fact two of the easier to grow of the varieties.
In warmer areas these wonderful plants can be grown outdoors, think zones 10 -11.
In cooler areas they are better grown in pots or containers and given protection indoors during winter.
So California, Texas and Florida are all suited to outdoor cultivation, although some winter protection may be needed. And of course New York, where they are widely grown as indoor plants.
Pictured right is Aechmea gamospela The Variegated Matchstick Plant, an excellent indoors plant but also suited to growing outdoors in a protected position. Grown for its colourful flower spike. Like many Aechmea this one can be divided every 3 – 4 years
Care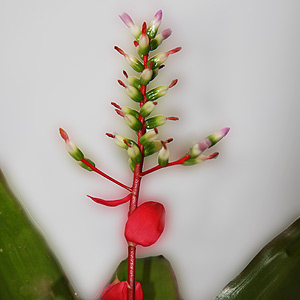 This is an epiphytic bromeliad and requires a very well drained potting mix if grown in a container.
Widely grown in hanging baskets, pots and as an epiphytic this is a wonderful flowering plant for a sheltered but well lit position.
Good filtered light is best, can be grown as a feature plant in a container or beneath taller growing tropical foliage plants.
Good drainage is essential, overwatering will kill these plants.
Try not to overfeed, 1/3 strength liquid fertiliser every 3-4 weeks seems adequate.
A pebble saucer beneath the pot can help with the humidity if needed.
Low temperatures will inhibit flowering.
Varieties
Aechema fasciata or 'silver vase plant' is another native of Brazil growing up to 2ft tall and with siler green foliage and bright pink flowers this one is a great garden plant. With Aechmea fasticata 'Primera' being a desired form.
Aechmea blanchetiana is a taller species, again from Brazil it grows to 4ft and has great orange foliage and a very tall flower spike.
Aechmea chantinii or 'Amazon Zebra Plant' is a rainforest plant originally from Brazil. With its tall upright leaves in a 'vase like' shape and flowers ranging from red to yellow this is a fairly easy to grow species.
Aechmea gamosepela is smaller growing, to 15 inches and has purple/mauve flowers.
Species include: andersonii, chantinii, fulgens, fasciata, gamosepala, primera, nudicaulis and blanchetiana.
Aechmea fasciata 'primera with' its beautiful long lasting pink flower bracts and blue flowers is a charming indoor plants, or for those in tropical climates a great addition to the garden. Silvery green marked foliage is an added attraction throughout the year.
Aechmea carvalhoi is a fairly rare species from Brazil (pictured right)
Propagation
Propagation is by dividing the offsets or 'Pups'