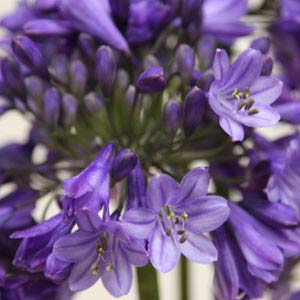 Although Agapanthus have been grown for many years especially in the warmer zones, they have fallen out of favor recently as they have tended to become a little, 'to easy to grow'.
The problem is that many of the older Agapanthus varieties set seed very easily, and the seed germinates just as easily. This is especially true in warmer climates.
However with the release of new sterile cultivars this is no longer a problem, so Agapanthus can be put back on the list.
Today we can get white flowering forms as well as blue through to deep indigo blue. A few multi colored forms, and some excellent low growing dwarf forms. They may not be every gardeners taste in plants, however they are versatile and do serve a useful place in the garden.
Agapanthus plants and varieties are available for sale come in a number of forms including blue agapanthus and white agapanthus.
Agapanthus Care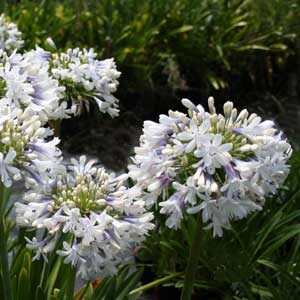 Agapanthus come in two types, the evergreen ones and the deciduous ones. It is the deciduous types such as Agapanthus campanulatus that are cold hardy. Apagapanthus inapertus is another cold tolerant species along with A. coddii and A.caulescens.
Having said that they are cold tolerant, they do not like frosts and freezes, so will still need protection. Very few will survive below Zone 5 without protection or over-wintering.
Pruning or Trimming Agapanthus
Agapanthus need very little pruning or trimming although it is a good idea to trim or prune the dead agapanthus flowers heads to prevent self seeding and to keep the plants looking great.
Varieties
Agapanthus 'Queen Mum' and 'Black Panther' are two of the newer releases, both popular forms.
Agapanthus africanus and Agapanthus orientalis are two popular species.
Agapanthus dwarf Peter Pan
gapanthus 'Storm Cloud is a dark blue cultivar,.
Agapanthus 'Elaine' has violet blue flowers.
Agapanthus 'Black Pantha' or 'Black Panther' is one of the darkest flowering forms.
Propagation
Agapanthus are very easy to propagate by division or from seed. So easy that they can actually become a weed problem in the right conditions.
Many of the new cultivars are sterile and these are the varieties that should be planted.
Agapanthus varieties are available for sale from the following nurseries
---
PINE KNOT FARMS – 434-252-1990 phone 434-252-0768 fax
681 Rockchurch Road, Clarksville Virginia 23927 USA
Mail order, retail and wholesale of our speciality, is hellebores. Full range of herbaceous material.
www.pineknotfarms.com
BALI-HAI MAIL ORDER NURSERY – phone: 00442828885289
42, Largy Road city: Carnlough, Ballymena Co.Antrim BT44 0EZ
Agapanthus, Phormiums, Rhodohypoxis, Trilliums and many more cottage garden perennials shipping worldwide.
www.mailorderplants4me.com
SEQUIM RARE PLANTS
500 N. Sequim Ave. Sequim, WA 98382
Small mail order nursery with a very interesting range of perennials and other plants. Includes: Agapanthus and many others
www.sequimrareplants.com