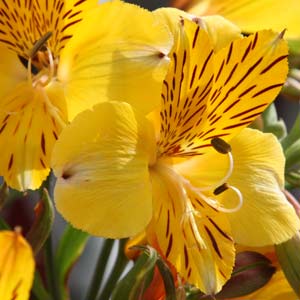 Alstroemeria flowers and plants, hybrids and species are readily available for sale both online and in garden centers.
Alstroemeria are regarded as being hardy to zone 8 and come in a wide range of colors from white to red, they are widely used as cut flowers.
Alstroemeria flowers are typically marked with distinct splashes of deep maroon (see picture right)
Alstoemeria are also known as the Peruvian Lily or Lily of the Incas. With trumpet shaped alstromeria flowers much hybridized to produce a wide range in colors from white through to scarlet they are used widely as a cut flower.
Alstroemeria Care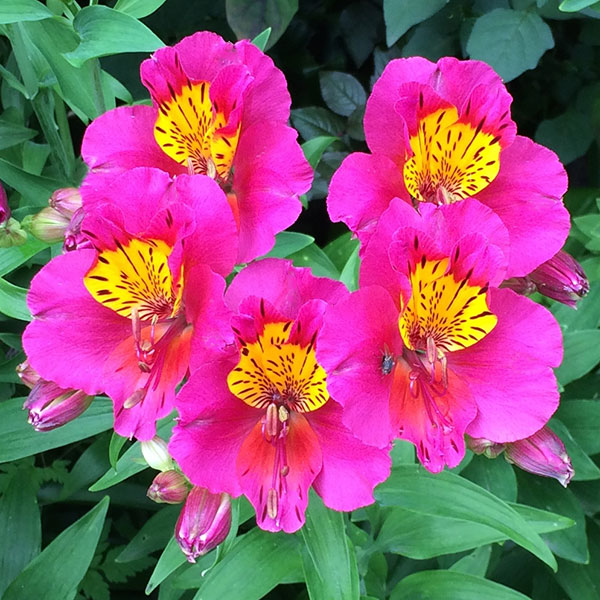 Alstroemeria grow well in full sun to partial shade and a well drained humus rich moist soil.
Well suited to the garden border or growing in a container they will bloom from spring through summer. Alstroemeria plants will die back at the end of summer, its then that they can be divided.
Outdoors Zones 10 – 12

We suggest growing in containers or pots that can easily be moved indoors or into a greenhouse.

Winter dormant they will lose most of the foliage in cooler months, during this period refrain from watering.

Good sun with at least 6 – 7 hours a day from spring through summer.
As these plants grow they form a large caudex which in itself is a feature.

Flowering from spring through to fall, although if you are lucky enough to live in a warmer climate (Florida) then they may just flower whenever they feel like it.

A free draining potting mix is essential, a slow release fertiliser during spring seems to be adequate
Varieties
With so many cultivars available it is a little difficult to keep up with the names, a couple of our favourites are :
Alstroemeria Camilla is a wonderful white flowering cultivar with maroon markings in a yellow throat.
Alstroemeria Letizia with its bright red flower with yellow throat.
Propagation
The best ( and easiest) method of propagation is by division of tubers in spring.
Where to buy
---
EMERISA GARDENS
555 Irwin Lane Santa Rosa, CA 95401-5657
(707)525-9600 phone (707)525-0300 fax
DIGGING DOG NURSERY – phone (707) 937-1130
PO Box 471 Albion CA 95410
A spectacular selection of hard to find perennials, ornamental grasses, shrubs, trees and vines for your garden. Includes: alstroemeria, or peruvian lily.