Also known as the Himalayan Cobra Lily Arisaema consanguineum is one of the easiest arisaema plants to grow.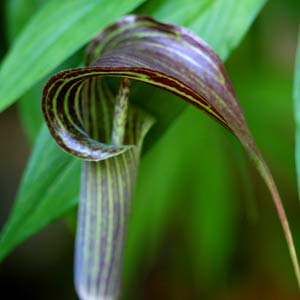 A tall growing species reaching up to 3ft (1m) and taller with an upright habit, lots of varieties some with more attractive foliage or flowers than others. Silver centred leaf forms (see picture right) and red centred leaf forms are available.
Easy to grow from seed with germination being easier (and faster) than many of its relatives.
Its long lasting foliage is an added attraction. We provide a plant profile, care growing hints for Arisaema consanguineum.
Arisaema consanguineum Care
Being a tall growing species A. consanguineum works well in the garden border when planted in a clump and also makes a good specimen or great container plant. Remember that flowers that vary greatly, foliage also varies from plain green to foliage with silver and red markings
Like most arisaema, propagation is from offsets which can be divided in late fall, or from seed which will germinate easily if sown directly. Seed can also be collected and with the fleshy pulp removed they can be kept for sowing in a cold frame at a later date. Some growers use stratification however in general we find that this is not required.
Can also be grown as a group of bulbs in a container and in fact they do seem to grow well in containers or in a part shaded woodland position. A well drained soil is essential.
More information
The name 'cobra lily' comes partly from the flowers that rise from the stems like a 'cobra head' and part from the pattern on the stem which looks a little like a snake skin.
The flower (see picture right) or 'spathe' varies from purple to brown with white stripes and a long thin whip from the tip. Foliage consists of around 14 long leaflets radiating from a single stem, again a wispy whip trails from the leaflet points.
A few named cultivars are appearing for sale including Arisaema consanguineum 'Poseidon' and Arisaema consanguineum 'The Perfect Wave'.