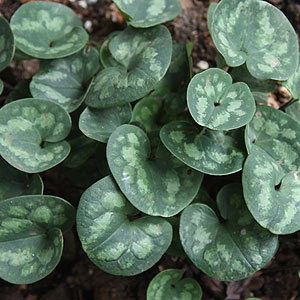 A stunning little ground cover plant, Asarum takaoi is an evergreen perennial with leaves that remind us of cyclamen, ( C. cilicium in particular) except it lasts all year.
Widely found in the wild in the Japanese Islands, this is a variable species, both in terms of foliage and growth habit with some forms spreading more than others.
It will naturally grow to form a neat mound around 6 inches high. Although it does flower, usually in spring with sort of burgundy to copper velvety flowers these are not the main attraction. For a start they are hidden under the foliage, and unless you go searching you are unlikely to even see them.
It is the foliage that we grow them for, excellent for planting beneath deciduous trees.
Care
Fairly easy care in USDA zones 4b to 8b as long as you provide shade, especially in the warmer zones.
Humus rich moist free draining soil.
Filtered shade.
Extra water during very dry summers.
General purpose slow release fertiliser in spring
Varieties
Asarum takaoi 'Roundabout' said to be more spreading
Asarum takaoi 'Galaxy' said to be more of a clumping form
Propagation
Easy by division of established clumps. Also can be grown from seed.
Summary
Excellent ground cover plant for a shaded position