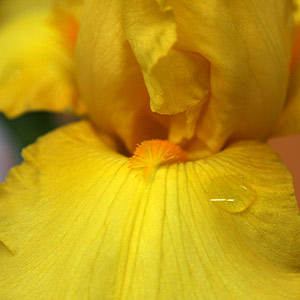 Perhaps the most widely grown of all Iris are the Bearded Iris, you can find many cultivars for sale including tall, medium and dwarf varieties.
We also have species, although it is the cultivars offered by specialist Nurseries that are most sought after. All grow from a rhizome or bulb.
These are a hardy iris that thrive in most zones, except those with high humidity. So from zones 3 to 10 on the west with 3 – 8 on the east coast.
Popular both as garden plants and cut flowers, the flowers are described using terms such as falls, standards and beard.
The standards are the three upper petals, they rise upwards.
The falls are the three that drop down.
The beard is the distinguishing feature that sits on the fall. A fuzzy strip that give the plant its name. You can see the beard on the yellow flower pictured right.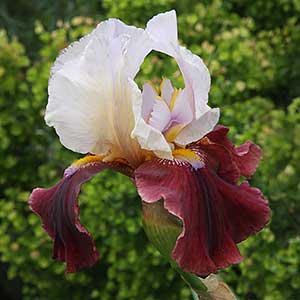 So a flower may be described as yellow standards and yellow falls, or maybe having light blue standards and deep blue falls.
Various species and cultivars are also classifies as very early flowering, early, mid season and late. So with clever selection you can have flowers for 3 months of the year.
Bearded Iris Care
Care and planting is not difficult given a well drained soil and a sunny position. The main maintenance involves dividing clumps every 2-3 years. Division of bearded iris helps prevent overcrowding, and reduces the incidence of rot and borer damage.
Planting Bearded Iris
Remember that they do not like to kept wet, so a well drained position is best.
Dig in well rotted compost.
Bearded Iris tubers should be planted with the tuber at the surface, NOT BURIED.
Water the area well, spread the roots and cover the roots and the lower part of the rhizome with soil.
Do not mulch rhizomes as they tend to rot.
Water well and keep moist until new growth appears.
Propagation
As we are generally dealing with hybrid cultivars the only way for most gardeners to ensure that you are going to get the same flower from a plant plant is by division.
How to divide Bearded Iris Plants
Use a garden fork to dig around and lift the rhizomes or tubers.
Trim foliage back to 6 inches.
Divide using sharp secateures or knife.
Discard any rotted or shrivelled tubers.
Replant in soil that has been replenished with well rotted organic compost.
Summary
Height : 1 ft – 3ft
Growth : Moderate once established
Flower color : Huge variety from white to purple with many multi – colors as well.
Foliage : Usually green sword shaped
Flowering period : Spring to summer, later in cooler areas
Seasonal interest : Spring to Summer for foliage
Landscaping uses : Garden borders, containers and general uses
Soil Requirements : Well drained, neutral to slightly acidic ph
Position : Full sun to light afternoon shade
Varieties
As Bearded Iris are highly popular with hybridisers, many new varieties are released for sale by mail order each year.
They come in many colors including purple, reds, near black, yellow and white.
It is generally the flower color that varies, however you can find tall, medium and dwarf types for sale
You may also like :
Dutch Iris
Pacific Coast Iris
Japanese Iris
Louisiana Iris
Iris Katharine Hodgkin
Iris Pallida variegata
Where to buy Bearded Iris
ROSS ROAD IRIS
1504 Ross Road Weiser, ID 83672
1000+ varieties of bearded iris are grown in our gardens. We pre-sell quality rhizomes in limited quantities. Check out our website!
www.rossroadiris.com
WHITE FLOWER FARM phone 1-800-503-9624
STOUT GARDENS – 405-642-4190
432 NE 70th St
Oaklahoma City, OK 73105
SCHRIENER'S IRIS GARDENS phone 800-525-2367
3625 Quanaby Road N.E
Salem OR, 97303 USA

PINE KNOT FARMS phone 434-252-0768 681
Rockchurch Road, Clarksville
Virginia 23927 USA