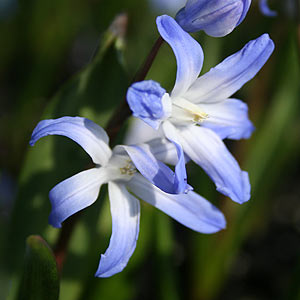 Easy to grow bulbs that have blue flowers, this makes Chionodoxa one of the most underrated garden plants.
Also known as 'Glory of the Snow', which is a reference to its flowering time, early spring, often when snow is still on the ground. So vibrant blue flowers pushing up through the snow, who wouldn't want that.
Now not all are blue flowering, some varieties are pink, others white, however they are all very attractive.
Easily grown in the garden border, equally at home when naturalised into a woodland garden or even a grassed area.
Care
Easy to grow is the catch call, and in a well drained soil in full sun to part shade they will thrive.
Be warned, these plants do spread easily and can become invasive in some climates.
Plant them around 3 inches deep, preferably in a large groups , at least 10 bulbs for a good display, and 200 for a mass planting.
Varieties
C. luciliae
Pale lavender blue flowers, a pink variety is also available
C. forbesii
Lavender blue flowers, however look for C. forbesii 'alba' with white flowers, C. forbesii 'Blue Giant' with larger flowers than the species and also C. forbesii ' Pink Giant' with soft pink flowers
C. sardensis
Small flowering, but with brighter blue flowers, this species will not take as much cold as the others. Some gardeners will dig them over winter, others will mulch.
Propagation
Easy by division of established clumps. Also possible from seed.