Chocolate Cosmos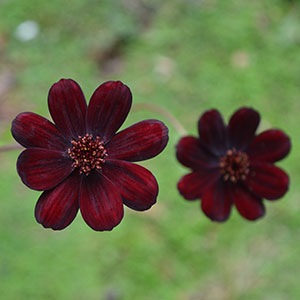 The botanical name is Cosmos atrosanguineus, the flowers are deep Chocolate red and yes they do smell of Chocolate.
The common name comes from both the colour of the flowers and the fragrance.
Some gardeners find the fragrance to to be rather faint, however in warmer climates in it is more pronounced.
Originally from Mexico, they are related to other Cosmos varieties, however they do differ in growth habit.
These are a tuberous rooted perennial, and can be grown as such to USDA Zone 7. In colder zones they will need to be overwintered indoors. popular in many areas of California, they are also gown as container plants in colder zones.
Flowering period is from mid summer into fall.
Care and Propagation of Chocolate Cosmos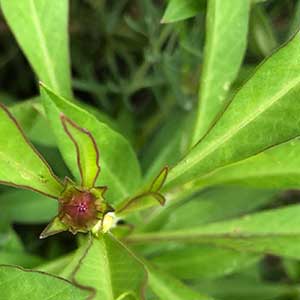 These are a plant that require good sun and a humus rich soil. They also need very good drainage, especially over winter.
Propagation is from division of the tuberous roots, rather than the seeds which are sterile. The best time to dig and divide these wonderful plants is in fall.
Tubers can be stored in peat moss or sawdust in a dry cool area over winter. If at any time the look like they are drying out, moisten the storage medium with a misting spray.
Be careful to allow the plants a few years to develop a good root system, give them 2 – 3 years before dividing.
How to Plant Chocolate Cosmos
Dig in some well rotted compost and ensure the soil is free draining.
Tubers should be planted at around 6" deep.
Water in well after planting and allow the soil to dry a little between waterings.
Mulch around the plants over winter.
In cold climates grow them in a container and bring them indoors in winter.
Deadhead regularly to promote more flowers.