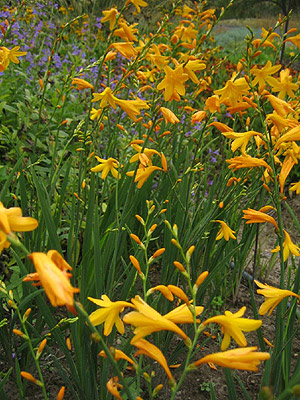 An old fashioned bulb that is making a comeback, Crocosmia Bulbs (corms) are easy to grow and make great cut flowers. Bulbs need to be planted around 3″ deep in full sun in a well drained humus rich soil.
Flower color varies from the yellow of Crocosmia masoniorum pictured right to the brilliant reds of cultivars such as C. Lucifer.
Great plants for garden border and as the tall flower spikes (up to 3ft) are attractive to hummingbirds they are more than just a pretty flower.
Originally from South Africa Crocosmia are reasonable drought tolerant, are free from most pests and diseases and are hardy.
Crocosmia lucifer is also known as Montbretia and Coppertips, probably the hardiest cultivar that will grow in the colder zones.
Masses of brilliant red flowers from spring through summer. This is a plant that grows from corms, and they multiply freely.
One of the big problems with Crocosmia is that they are invasive, and the warmer the climate, the more so.
They do produce a lot of small corms, and these are easily disturbed and spread through the garden. Difficult to eradicate. So these are actually a better plant in the colder climates where they struggle to survive the winter.
So although the flowers are attractive, appear in masses and can even be used as cut flowers, we do not grow it. Consider the environment, should you grow it in your area ?
Care
If you must grow it, keep it under control. Be careful when digging around it as this is great way to spread it through the garden.
When you pull up the spent foliage, dispose of it carefully as very often corms are attached. And never put it in compost bins.
Best in USDA zones 6 – 9, and in these zones it is very hardy.Drought tolerant once established, and the corms will survive most winters with little problem.
The only real care need is to remove the spent foliage, and this is best left until spring as it does provide some protection over winter.
If you plant the bulbs after the risk of frost is over you will find that Crocosmia require very little care at all.
Plant the bulbs at around 3 inches deep and water in. That is is abpout all of the care they need.
In colder zones, they are treated as annuals, lift them as soon as the foliage dies back. In warmer somes, as long as the soil is well drained, leave them in the ground.
So USDA Zones 6 and up, leave them in the ground, 5 and below, dig them in fall.
Varieties
Popular species and cultivars include :
Crocosmia lucifer
Crocosmia 'Emily McKenzie'
Crocosmia citronella
Crocosmia 'Voyager'
Crocosmia 'Solfaterre'
Crocosmia masoniorum is a yellow flowering species.
Propagation
You will have few problems, they tend to multiply freely.
You can also propagate from seed.
Summary
Easy Care Bulbs
Full Sun
Well drained soil
Grow well in the garden as well as containers
Plant in clumps of 10 or more for a good display.
Looking at Bulbs in more detail
Where to Buy
Crocosmia are available from the following nurseries
---
BALI-HAI MAIL ORDER NURSERY phone: 00442828885289
42, Largy Road city: Carnlough, Ballymena
Co.Antrim postcode: BT44 0EZ
www.mailorderplants4me.com/
DIGGING DOG NURSERY phone (707) 937-1130
PO Box 471 Albion CA 95410
www.diggingdog.com