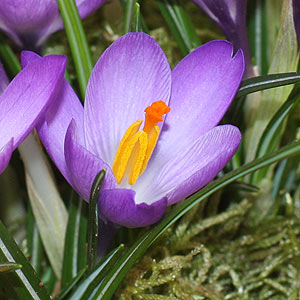 Crocus vernus is a hardy bulb or corm also known as the Spring Crocus and Giant Crocus (also Dutch Crocus). A number of varieties are available for sale, all with similar growing requirements.
The first two names give us a good idea about its habit. Flowering in spring and with a large flowers. The 'Dutch' part is a little more obscure as this relates to where it was hybridised rather than where it originally came from.
Originally from alpine areas from France and Italy through to Austria and Serbia Crocus vernus is at home in a cold winter (covered in snow) and a dry summer. In warmer areas protection from hot sun in summer is desirable.
Crocus vernus Care and Growing Conditions

Often used as a bulb to naturalise into lawns, Crocus vernus is at home in a woodland setting or planted in a clump beneath deciduous trees.
As these are spring flowering this is ideal as they get sun in late winter to spring (flowering time) and then protected from the drying summer sun.
These are easy care bulbs in USDA Zones 3 – 8.
Bulbs can be lifted and divided after foliage has died back if required.
Varieties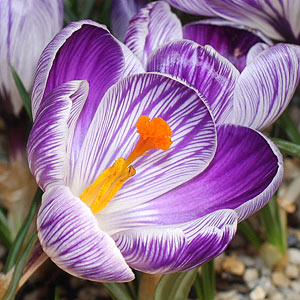 Although you can buy bulk Crocus vernus in mixed colors, some of the cultivars look particularly good when planted en mass.
Crocus vernus 'Pickwick' with its characteristic white and violet striped flowers is a really popular cultivar. (pictured right)
Crocus vernus 'Vanguard' has been around since 1935, the inner petals are a mid purple, while the outer ones are very pale gray -purple.
Crocus vernus 'Grand Maitre' is another purple flowering cultivar.
Crocus vernus 'Flower Record' is a dark flowering variety.
Crocus vernus 'Twilight' is the deepest purple of all
Crocus vernus 'Remembrance' with its brilliant purple flowers is also outstanding. The white flowering Crocus vernus 'Jeanne d'Arc' is an outstanding white flower.
Crocus vernus ssp. albiflorus is probably the species where the striped cultivars originate.
Crocus vernus ssp. vernus is the purple flowering one.
Propagation
Crocus vernus is easy to propagate by division of established clumps when dormant.
You can also propagate from seed.
Summary
Easy Care Bulbs
Full Sun
Well drained soil
Grow well in the garden as well as containers
Plant in clumps of 10 or more for a good display.
Crocus vernus is an spring flowering crocus and is not edible, it is Crocus sativus that is the Saffron crocus and only one part that plant is edible. So our advice is, do not any of the crocus family.
You may also like
Where to Buy
Crocus vernus bulbs are available for sale online from fall to winter. Bulbs are not expensive except for the rare cultivars. Expect to pay $6 for 10 bulbs plus postage for the common varieties.