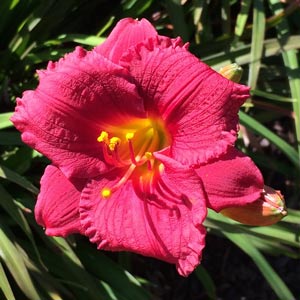 Appropriately named and indestructible Daylilies are Hemerocallis species and cultivars.
The indestructible nature is well know, and Hemerocallis actually means 'Beauty for Day' and each individual flower does indeed last just one day.
The flower stalks however carry numerous buds, so an individual plant can can carry flowers sequentially for over 4 weeks. They will thrive in warmer climates, and can stay in the ground for years with little attention.
In colder climates they can also grow well if helped through winter. So from USDA Zones 3 – 9 you will find these long flowering versatile plants growing in gardens across the country.
The flowers that literally last a day appear in numbers of 8 – 16 individual blooms on a stem. Different varieties flower at different times, so Daylily flowering season can last for 12 weeks if you choose the right varieties.
And just to make things interesting Hemerocallis lilioasphodelus is a species where the flowers open in the evening and last through to the following afternoon. These are often fragrant varieties as well, an excellent plant for the midnight rambler.
Excellent in a cottage garden, or just planted in groups of 5 0r 5 where you have room, these undemanding plants are well worth a look.
Specialist nurseries and growers have a wide range of plants for sale Online.
Daylilies are hybridized by many growers with new colors and forms are available each year.
Care
daylily
A daylily is easy to grow in the home garden, preferring a well drained sunny position.
A slightly acidic soil is preferred.
Deep watering in spring and summer and the application of a complete fertilizer in spring/early summer will enhance daylily flowers or blooms. (see daylily picture below)
Mulching can help improve soil and maintain moisture.
Daylilies will grow well in zones 3 – 9, but this depends on the cultivar, so ask which zones suit best, or buy locally.
Varieties
Daylily flowers come in a huge range of colors, doubles, spiders and even miniatures.
Different Daylilies have different flowering times from early (spring) to late (late summer). So depending on where you are you can have daylilies flowering from may through to September, if you choose the right types.
Daylily growers and nurseries listed below can provide more specific information.
Over wintering Daylilies
This does depend on the variety with some being more hardy than others. Some years a good even coverage of snow will cover daylilies and they will survive well.
Other years melts and freezes can play havoc. So we suggest either digging them to over winter, or covering with a good layer of mulch.
Looking at Bulbs in more detail
Daylilies are available for sale from the following growers
---
DAYLILYWAREHOUSE Inc.
Michigan
email – contact@iriswarehouse.com
Retail, online, wholesale. Over 300 varieties of daylilies offered along with iris & lilies.
www.daylilywarehouse.com
SUNSHINE FARM and GARDENS – Phone/Fax 304-497-2208 Fax – 304-409-2698
Plants from the collection are available to gardeners worldwide at very reasonable prices.
www.sunfarm.com
SOULES GARDEN – 1317-786-7839
5809 Rahke Rd. Indpls In 46217
email sales@soulesgarden.com
We carry many unique varieties of perennials and proven winner shrubs.
www.soulesgarden.com
5-ACRE FARM DAYLILIES
1578 County Road 300N
Tolono IL 61880-9719
Phone : 217 621-8474
www.5acrefarmdaylilies.com
BELLS DAYLILY GARDEN
455 Bell Road, Sycamore, GA 31790
phone 229 256-1234
www.bellsdaylilygarden.com
SEQUIM RARE PLANTS
500 N. Sequim Ave. Sequim, WA 98382
Includes: Hemerocallis. Hemerocallis citrina, Hemerocallis exaltata, Hemerocallis fulva and many others
www.sequimrareplants.com
MR FANCY PLANTS NURSERY – Phone/Fax 304-395-4525/304-776-4940
5021 G Kilgore Lane Cross Lanes, WV 25313
Offering mail order field grown hardy daylilies. We have over 100 varieties of daylilies for sale.
www.mrfancyplantsnursery.com
DEERWOOD FARM and GARDENS
571 Norway Road Waterford, Maine 04088
207.583.2412
e have over 7,000 field grown daylilies representing over 250 varieties.
www.deerwoodgarden.com
BLOOMIN DESIGNS NURSERY – phone: 678-376-7987
558 Auburn Rd Auburn GA 30011
Featuring daylilies and hostas and the 'Knockout Ros e'
www.bloomindesigns.com
OAKES DAYLILIES – phone 1800 532 9565
Huge range of daylilies by mail order.
www.oakesdaylilies.com
POSSUM RIDGE FARM & GARDENS – phone: 502-477-5854 fax: 502-477-1081
169 Old Possum Ridge Road Mount Eden Kentucky 40046
Over 1200 varieties of daylilies. We ship mail order plants within the continental United States.
www.possumridgedaylilies.com