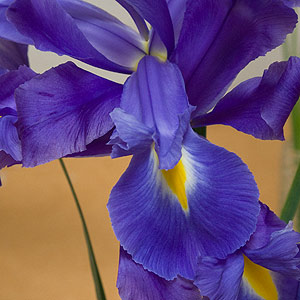 Dutch iris are a true bulb, generally though of as blue with strong yellow and white makings on the fall, although other colors are also available for sale.
These easy care, low maintenance bulbs actually come in white, white and yellow and well as a blue and deep crimson.
In most climates they can stay in the ground year round as long as drainage is good. With strong long stems they make excellent cut flowers as well.
Dutch Iris Care
The main issues are with good drainage and full sun, if you can find a position that meets these requirements you will be able to grow Dutch Iris successfully.
These bulbs can be planted from fall through to spring.
Dig in some well rotted compost and aged cow manure well before planting. Bulbs need to be planted at a depth of around three time the height of the bulb.
Water in well with a liquid seaweed fertilizer and that is all you will need.
After flowering leave the foliage until it begins to die back, this helps return energy to the bulb and have it ready for next years display.
You can also grow these bulbs in containers and pots, similar conditions are required.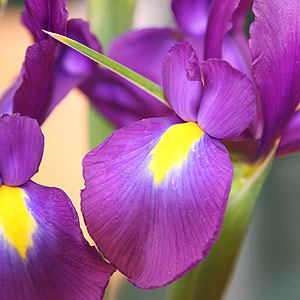 Propagation
As we are generally dealing with hybrid cultivars the only way for most gardeners to ensure that you are going to get the same flower from a plant plant is by division.
How to divide an plant Dutch Iris
Mark where you have planted the bulbs before the foliage dies back.
After the foliage dies back, carefully dig the bulbs with a garden fork.
Prepare the new planting area by digging in some well rotted compost.
Plant the bulbs at around 4″ deep and 3″ apart.
In containers you can plant the closer, however you will need to divide and repot each year.
Water in well with a liquid seaweed fertilizer.
Summary
Height : 2 ft – 3ft
Growth : Moderate once established
Flower color : Variety from yellow, blue, white with some multi – colors as well.
Foliage : Usually green sword shaped
Flowering period : Spring to summer, later in cooler areas
Seasonal interest : Spring to Summer
Landscaping uses : Garden borders, containers and general uses
Soil Requirements : Well drained, neutral to slightly acidic ph
Position : Full sun to light afternoon shade
Varieties
The traditional blue variety with yellow markings is the best known, however yellow, pale blue to white and purple types are also available.
You may also like
Bearded Iris
Pacific Coast Iris
Japanese Iris
Louisiana Iris
Iris Katharine Hodgkin
Iris Pallida variegata
Dutch Iris Bulbs are available for sale from the following growers
---
WHITE FLOWER FARM phone 1-800-503-9624

STOUT GARDENS – 405-642-4190
432 NE 70th St
Oaklahoma City, OK 73105

SCHRIENER'S IRIS GARDENS phone 800-525-2367
3625 Quanaby Road N.E
Salem OR, 97303 USA

PINE KNOT FARMS phone 434-252-0768 681
Rockchurch Road, Clarksville
Virginia 23927 USA