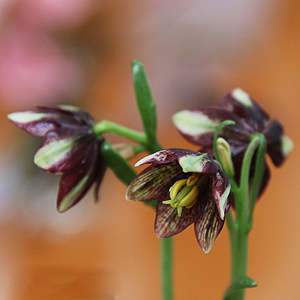 Fritillaria biflora another native fritillaria from California referred to as the (Chocolate Lily).
Flower color varies from a chocolate red to forms with white to pale green markings as well.
It is thought that the mottled forms may be closer to F. affinis, clarification is needed on this.
Fritillaria biflora Care
Fritillaria biflora is often similar to Fritillaria affinis. Generally growing to 18-24″ and fairly easy to grow in a well drained soil. Zone 6-9.
It tends to grow in coastal areas and does prefer some protection from the heat of summer.