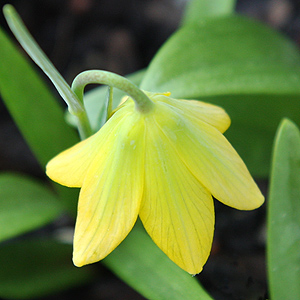 With its attractive citron yellow flowers Fritillaria Conica are originally from the Peloponnese, conical nodding flowers with a tinge of green.
It is a rather low growing species to 4 inches (10cm) , so in the garden plant it near the front of the garden border.
This is one of our favourite frits, it seems to multiply freely and given good drainage seems easy care.
In its natural environment it is regarded as a threatened species although some good colonies can be found around Kalamata
Fritillaria Conica Care
The natural habitat is in the rocky hillsides where drainage is exceptional. A dry dormancy is best, and a well drained soil in dappled shade seems to work well.
As the bulbs get older you may find that they produce multiple flowers on each stem
Try growing Fritillaria Conica in pots or containers or in a rock garden.
Summary
Sunny Position.
Well drained soil.
Dry summers.
Mulch lightly in early summer.
Fertilise with a little aged cow manure or garden compost as a top dressing.
In containers repot every 2 – 3 years.