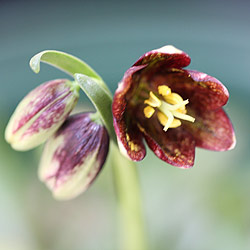 Fritillaria grayana is also known as Gray's fritillary. Originally from California also known as Fritillaria roderickii.
Fritillaria grayana Care
Again good drainage is the key to growing Fritillaria grayana , so we are looking for that combination of humus rich deep soil, but free draining.
This is a bulb that like to be a little deeper than the usual rule. Try around 6 inches (15cm) deep and if needed add some drainage material beneath this, sharp sand or fine grit will do.
Planting
Like most bulbs they look great in clumps. We like 7 – 10 in a group, and unevenly spaced for a more 'natural' look.
They grow equally well in the rock garden and in a well drained container in full sun to part shade.