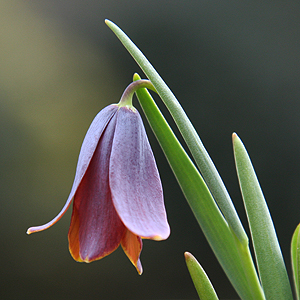 Fritillaria pinardii is variable species originally from Turkey and nearby countries.
Hanging bells maroon with yellow lips is a common form. Yellow bells with maroon or brown tints on the petals in another.
This is a low growing species and as such is best grown in containers or at the front of the garden border.
Fritillaria pinardii Care
Again good drainage is the key to growing this species, so we are looking for that combination of humus rich deep soil, but free draining.
This is a bulb that like to be a little deeper than the usual rule. Try around 6 inches (15cm) deep and if needed add some drainage material beneath this, sharp sand or fine grit will do.
Planting
Like most bulbs they look great in clumps. We like 7 – 10 in a group, and unevenly spaced for a more 'natural' look.
They grow equally well in the rock garden and in a well drained container in full sun to part shade.