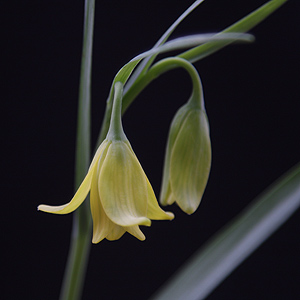 One of the first of the Frits to flower for us, Fritillaria sibthorpiana is also one of the easier species to grow. The flowers are wonderful lemon yellow and although small are elegant and long lasting.
A small growing species from Turkey. Growing to only 15cm Fritillaria sibthorpiana has dainty attractive, almost translucent bell like flowers that are most attractive.
Mid green lance like foliage is attractive, the flower petals are slightly reflexed. Like most other species, f. sibthorpiana requires a well drained position to avoid bulb rot.
Fritillaria sibthorpiana Care
At home in the rock garden or in a container Fritillaria sibthorpiana is from Turkey and is a species that does require a well drained soil as well as a sunny position.
The amount of sun depends on where you are, the hotter the climate in spring, the less sun.
Although dormant over summer these bulbs do not like to dry out over the warmer months.
Propagation
Propagated by division of bulbs in autumn or from seed sown freshly in late summer.