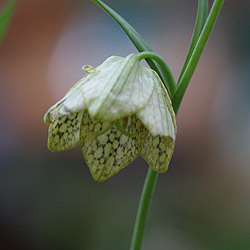 Fritillaria thunbergii is a bulb that is originally said to be from China and Japan, although it has been used for medicinal purposes and therefore may well be grown well outside of its original habitat.
This is another species that will do well in a woodland position, a medium growing fritillaria that will reach around 2ft (60cm) in height
With nodding cup shaped flowers Fritillaria thunbergii is a delicate and attractive plant.
Creamy- green tessellated flowers with similar patterns to f. meleagris. Can be grown in a deep pot.
Fritillaria thunbergii Care
Again good drainage is the key to growing Fritillaria thunbergii it prefers a well drained woodland environment.
This species has tendrils on the foliage that it uses to lift itself up through the natural grasses, so in nature it appreciates some support.
Planting
Like most bulbs they look great in clumps. We like 7 – 10 in a group, and unevenly spaced for a more 'natural' look.
They grow equally well in the rock garden and in a well drained container in full sun to part shade.