One of the many fascinating bulbs is the Paintbrush Lily – Haemanthus coccineus and this is a bulb with two bursts of growth.
The first and most spectacular is the large red flower, a little like a large paint brush hence the name.
Also known as the Blood Lily, the second phase are the two large undulating leaves flat and broad reaching up to 30cm, these appear after flowering.
Often referred to as the 'Blood Lily' this is a reference to is colloquial name 'bloedblom', it is said to stop bleeding, the leaves were applied to wounds and ulcers.
Late summer to autumn is flowering time and they emerge on bare stems from the ground. The flowers will reach around 25cm above the ground with the flowers heads over 9cm across. The stems are spotted, marked with green and red, attractive in themselves.
The bulb itself is large many 10cm across and they need to have a little room to grow. And they will multiply into a good clump in good conditions. Such large bulbs make it essential to 'pot up' every four to five years, as the soil will become exhausted and the bulbs to big for the container.
Care
Haemanthus coccineus are a South African bulb and require a well drained soil. Dry summers are a must.
When the plant begins to put on leaf growth it is time to water and fertilize. Water every 2 – 3 weeks depending on conditions and soil moisture. Use a liquid seaweed fertilizer for good results, an application of slow release fertilizer will also assist.
As for sun, they love it, ours thrive in full sun with a little afternoon shade, and a fair amount of neglect, however they are well drained. In warmer areas a little more shade may be required.
As soon as the leaves begin to yellow you do need to withhold water.
Varieties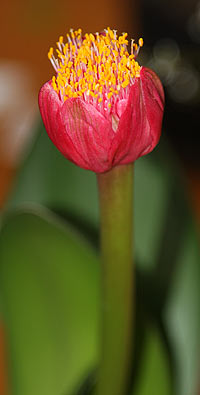 If you were looking for a hybrid Haemanthus coccineus that has been around for a while then Haemanthus x clarkei would be the one.
Said to be a cross between H. coccineus and H. albiflos it was first noted in the the late 1800s.
Named after Col Trevor Clarke and grown in the Kew gardens. Rarely offered for sale
Haemanthus Propagation
Haemanthus are a geophyte, it propagates by division of underground bulbs as well as from seed.
Seed is best sown immediately for good germination.
These are bulbs that do not like to be disturbed, so if growing in containers keep repotting to a minimum, choose a large container and leave them alone for 4 – 5 years.