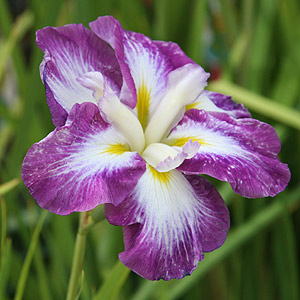 Iris ensata
Japanese iris (water iris) are a large flowered ' iris that generally have been bred from the species 'Iris ensata'.
In Japan three strains are cultivated, Edo, Higo and Ise. In the US it is the Higo and Edo strains that are the parents of most of the cultivars we see today.
Iris ensata are not actually a 'water iris', although in warmer climates they will grow in water, they do however like a moist soil and full sun.
Japanese Iris Care
Japanese Iris will require a moist soil and regular feeding, we prefer a balanced slow release fertilizer applied before flowering. They will grow well in the perennial border and will thrive near a water source. They do not however cope with freeing winter conditions, especially in water.
Plants do not over winter well in boggy soils, many gardeners grow them in containers which are placed in the water in late winter to spring, and then over wintered out of the water.
Propagation
These are an plant that should be divided and replanted every 2-3 years, this is best done in fall to early winter. A humus rich moist fertile soil is the best growing medium for Japanese iris
Summary
Height : 3 ft – 4ft
Growth : Moderate once established
Flower color : From close to pure white to blue and deep purple, all with a splash of yellow on the falls.
Foliage : Usually green sword shaped
Flowering period : Spring to summer, later in cooler areas
Seasonal interest : Spring to Summer
Landscaping uses : Garden borders, containers and general uses
Soil Requirements : Moist soil, neutral to slightly acidic ph
Position : Full sun to light afternoon shade
Varieties
Huge number of cultivars some of the popular varieties include :
Iris ensata Lion King
Iris ensata Royal Banner
Iris ensata Crystal Halo
Iris ensata Royal robes
Iris ensata Temple Bells
Iris ensata Pink Lady
Iris ensata Eileen's Dream
You may also like
Bearded Iris
Dutch Iris
Pacific Coast Iris
Japanese Iris
Louisiana Iris
Iris Katharine Hodgkin
Iris Pallida variegata
Japanese Iris are available for sale from the following growers
---

WHITE FLOWER FARM phone 1-800-503-9624

STOUT GARDENS – 405-642-4190
432 NE 70th St
Oaklahoma City, OK 73105
SCHRIENER'S IRIS GARDENS phone 800-525-2367
3625 Quanaby Road N.E
Salem OR, 97303 USA

PINE KNOT FARMS phone 434-252-0768 681
Rockchurch Road, Clarksville
Virginia 23927 USA