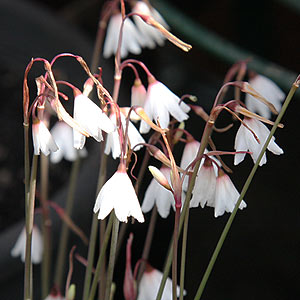 Another wonderful easy care bulb that heralds the end of winter are the Leucojums or 'Snowflakes'. They grow well in such a range of conditions, from humus rich deep soils to poor sandy soils that they truely are a 'no fuss' spring bulb.
However they do have different flowering characteristics, some in spring, some others in fall. Attractive white flowers on long stems are what they all give you.
Some Leucojums or ' Snowflakes' flower in early to mid spring and with nodding white flowers if you choose the right species you can have flowers for 6 – 8 weeks. And of course we also have the fall flowering Leucojum autumnale (syn Acis autumnale) which can flower in late summer to fall.
The spring snowflakes are Leucojum vernum the earliest to flower, and Leucojum aestivum, which does not flower until 5 – 6weeks later
Leucojum vernum is the best known, although L. aestivum is well worth looking for, as is the larger form Leucojum aestivum 'Gravetye Giant'.
Care
Generally Leucojum bulbs are easy to grow as long as they are in a moist to damp position. Try in part shade in a woodland type situation.
A humus rich well drained but moist soil.
Full sun to part shade.
Plant bulbs in groups of 8 -10 for the best effect to begin with.
Bulbs can be planted around 3 – 4 " deep and around 4″ apart. This way they can be left for a number of years before the clump becomes crowded
Water in well with a liquid seaweed fertilizer and wait until new growth appears.
You can use them as cut flowers, just leave the foliage until it dies back.
Top dress with some well rotted compost when dormant.
Yes they will grow in containers, however they are best in the ground.
They flower best when undisturbed, in containers you need to change the potting soil every few years, and they do not like being lifted, they sulk for a year.
Lifting and Dividing
Lift only when you really need to divide them.
Wait until the foliage has died completely back before attempting this.
Leucojums or ' Snowflakes' are available for sale from the following growers
McCLURE & ZIMMERMAN – Phone 1.800.546.4053
PO Box 368
Friesland, WI 53935