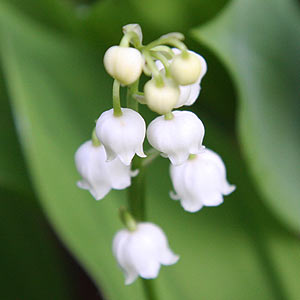 If you are looking for small flowers that pack a punch the Lily of the Valley is it. The tiny white bells glisten in the sun, and they are fragrant as well. Every one seems to love the plant, and in the right position it is easy to grow.
The botanical name is Convallaria majus and although it will spread, it never really seems to become a problem. And although it is said to grow in shade, in cooler climates it grows well in full sun.
Buy them to under-plant deciduous trees, plant hem around Camellias and Rhododendrons or grow them in containers. And if you are adventurous look for the pink flowering or variegated foliage varieties now available for sale.
A wonderful perfumed perennial plant, Lily of the Valley is an easy care when planted in the right conditions, and this can include both garden beds as well as pots and containers.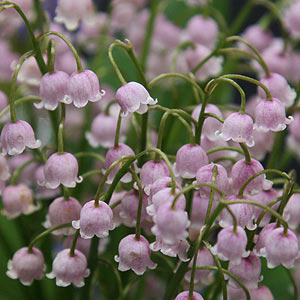 The fragrant perfumed flowers come in both white, and the more unusual pink, they are a nodding bell shape with around 8 little bells on each flowering stem, the foliage is an attractive green.
If you are looking for meaning in the Lily of the Valley flower, we think it means that spring has arrived. It is also said to be a birth flower for the Month of may. Biblical references refer to the flowers that grew where Mary's tears touched the ground
Care
A lot less fussy than thought by many, Lily of The Valley Plants are a shade loving perennial plant that flowers from early spring.
They do like a deepish soil so that the roots can easily grow down below the pips.
Consider digging over well and adding some well rotted compost before planting.
They grow from pips or tubers sometimes called bulbs, and will spread slowly under the ground in ideal growing conditions and require a humus rich moist but well drained soil and dappled shade.
Available for sale as potted plants when in flower or as 'pips' or more widely as bulbous tubers when dormant. After buying remember to plant immediately as they do not like to dry out.
How to Plant Lily of The Valley
Planting depth for Lily of the Valley pips should be just below the surface, the roots should be able to penetrate deeper.
Water new plants in with a liquid seaweed fertilizer or a vermicaste tea.
Annual Care
Once established plants require very little care.
Keep moist when in active growth.
Top dress with well rotted compost or manure when dormant.
Remember that Lily of the Valley Plants , especially the variegated forms do require some sun to flower well, variegated forms can revert to green in deep shade.
Lily of the Valley Flowers are often used in flower arrangements and bouquets and make a fragrant cut flower.
Try planting next to pathways where the fragrance can be best appreciated.
Growing Lily of the Valley in Containers
Again this is easy and is not only for those with small courtyards or apartments. A container or pot filled with thee wonderful white flowers will be lifted a little higher and make a wonderful display in spring. It is easy.
You will need a good sized container with adequate drainage. A humus rich growing medium that will retain some moisture is best.
Select a position where you will preferably get part shade, especially in warmer climates, less shade in cooler areas.
You can either buy some pips from Online suppliers or perhaps a friend or neighbour will be able to spare some.
Look for pips that are fresh and plump, anything dried or shrivelled is a waste of money.
You should get pips with roots attached
Moisten the soil before planting.
Choose a tall pot that will allow for the longish roots.
Plant with the top of the pips just below the surface.
Water well and place in a position of filtered light.

Convallaria majalis rosea Pink Lily of the Valley
Varieties
The botanical name is Convallaria majalis and this is the white form.

Convallaria majalis rosea is the pink form.

Convallaria majalis Vic Pawlowski's Gold is a rare variegated form of Lily of the Valley with lovely deep yellow stripes on the foliage,

Convallaria majalis albo-striata also has golden markings but not as strong as Pawlowski's Gold.
How to Force Lily of the Valley
You can force Lily of the Valley Pips by chilling them for a month or two and then waking them up. They think they have had winter, and are ready for spring after chilling.
Prepare a container with a humus rich potting mix.
The pips should have roots on them, so plant them with the roots well spread out and covered.
Place them in the refrigerator for 4 – 6 week.
Place the container in a warm position in good filtered light and keep moist.
They should flower in 4 – 5 weeks. After that they will need to planted out into the garden.
You can't keep forcing the same pips, they become exhausted.
Lily of the Valley are available for sale from the following nurseries
CLASSY GROUNDCOVERS
PO Box 2556 city: Blairsville GA 30514
Evergreen flowering ground covers, grasses, vines, ivy, … Free Shipping of over 150 varieties of quality groundcovers.