The Hoop Petticoat Daffodil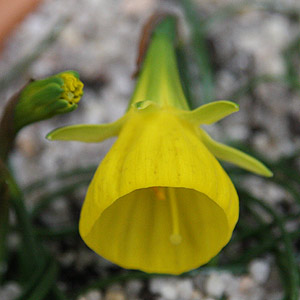 The small growing Hoop Petticoat Daffodils (Narcissus bulbocodium) may not have the largest flowers of the Daffodils, they do however have some of the most elegant. Small petals (perianth) and a large trumpet (corona) are the characteristics.
Generally reaching around 6 inches tall (15cm) if you do decide to try them you will fall in love with them. The species are wonderful and some of the hybrids (cultivars) are exciting and eye-catching. The flower range from deep yellows though to translucent shades of white and lemon.
Narcissus bulbocodium planting depth
Although the general rule for planting bulbs is 1.5 times the bulbs height the colder the climate the deeper you need to plant. So 1 inch (2.5cm) in warm climates with no freezes and 4 inches (10cm) in colder climates.
Generally seen as growing well in zones 5 – 9, with a little care we think that this can eaily be extented to includes zones 3 – 9.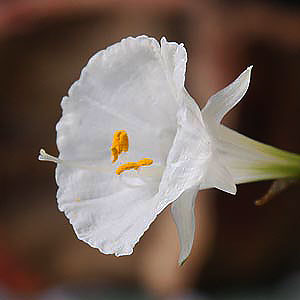 After flowering
Remember to deadhead cultivars (hybrids) and save the seeds for species. Foliage needs to be allowed to die back before removing.
If you have naturalised Narcissus bulbocodium into turf, mow around them until well after the foliage has died back.
Clumps will need to be lifted every few years to maintain vigour.
Care
Like all narcissus species these tiny treasures need a dry summer when they are dormant. They also need some moisture in Autumn as this is when root development begins.
If you are growing Narcissus bulbocodium in turf try for an area where the turf in naturally a little thin, perhaps beneath a deciduous tree. This will mean they are not competing with vigorous turf growth.
We think they are better suited to strategic planting in a sunny well drained border, or perhaps grown in containers.
Lifting and dividing
This can be done as soon as the foliage begins to die back. If you live in a warm climate, with no freezes or heavy frosts then you can happily leave them in the ground.
In cooler climates you will need to either lift them over winter or provide some protection from the cold.
Varieties
Narcissus bulbocodium var. bulbocodium
Narcissus bulbocodium var. conspicuus
Narcissus bulbocodium 'Golden Bells'
Narcissus bulbocodium var. nivalis
Narcissus bulbocodium var. citrinus
Narcissus bulbocodium subsp. obesus
And the many hybrids