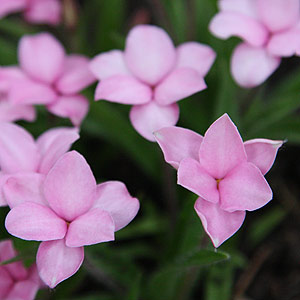 If you are looking for a long flowering plant for a container, then Rhodohypoxis could well be the one.
From spring through to summer, lots of bright flowers and good green foliage.
It is a plant that is dormant in winter, however it does make up for it the rest of the year.
Rhodohypoxis stella is a pink flowering form that when mass planted in a container, forms a mass of flowers and green foliage, it looks wonderful from spring through summer.
Growing to only 10cm, Rhodohypoxis are a attractive flowering perennial that grows from a corm or tuber. A very attractive low growing perennial that will quickly spread to form a clump.
Rhodohypoxis Care
Originally from South Africa where they grow in a area that experiences dry winters and wet summers Rhodohypoxis require similar conditions to thrive.
Container growing is the most reliable method, this way care can be taken to give them the dry winters they need. It is also easier to protect them from freezes.
Free draining soil
Full Sun
Water well from spring to summer
Over winter in a dry position protected from freezes.
You can lift them over winter and store the stolens in a cool, dark dry position until spring. However we grow ours in containers and put the containers under cover in winter. We also repot in a fresh potting soil every two years and divide crowded clumps as needed.
Rhodohypoxis Varieties
Varieties available for sale include Rhodhypoxis baurii and R. deflexa, two of the more popular of this this relatively small genus of 6 species.
Rhodohypoxis baurii has red , pink and white forms and grows well in a container where they can be kept dry during the winter.
Rhodohypoxis milloides with its pink to red flowers is a species that likes more moisture than others.
Rhodohypoxis baurii confecta In damp areas this is the variety to grow, the flowers are pale pink, however it handle moisture better than the species.
Rhodohypoxis baurii 'goliath' This is a named cultivar said to have larger flowers than the species.
Rhodohypoxis deflexa is low growing with small pale pink flowers
Propagation
All are easy by division of established clumps in early spring as new growth commences.