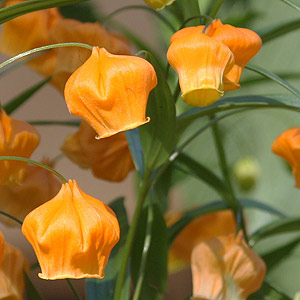 Fall is a great time to plant Sandersonia aurantiaca which is a wonderful climbing plant with dainty golden bell shaped flowers in summer.
Also known as the Chinese Lily Lantern (although it is from South Africa), Christmas Bells (yet it flowers in summer) and Golden Lily of the Valley (yet it is not related).
Sandersonia aurantiaca is the only species in the genus, so it is rather unique. However it is related to two other plants with similar habit, Gloriosa and Littonia.
Blooms are picked and sold as cut flowers and are even exported.
This is a tuber rather than a bulb and it has an interesting growth habit.
In the natural environment they grow in a climate of wet summers and relatively dry winters, so we need to mimic this, lots of moisture when they are growing, dry in winter. So the zone you live in will determine the care needed. A temperate to sub tropical climate is best, but if you are interested give them a try. Sandersonia in full flower are a rewarding plant.
Sandersonia aurantiaca Care
Look for tubers with two growing tips as this is the way they naturally occur, sort of Y shaped. A few nurseries have been splitting these and we think that this is a bad practice.
In nature the tubers flower once and die, however they produce two new Y shaped tubers for each growing tip, so they will form a clump over time.
Plant then around 3 inches deep in a humus rich well drained but moist soil. You can grow them in containers, just create similar conditions.
They do like some form of climbing frame, so set this in place before you plant, this means you will not to damage the tubers.
Water in well with a liquid seaweed fertilizer and wait until new growth appears.
Protect new shoots from slugs and snails.
Lifting and dividing
Once the flowering stems have died back some gardeners like to lift the tubers for winter, others (those in warmer climates) may leave then in the ground.
Whichever method you will need to add organic matter every 2 – 3 years as Sandersonia aurantiaca are a hungry plant.