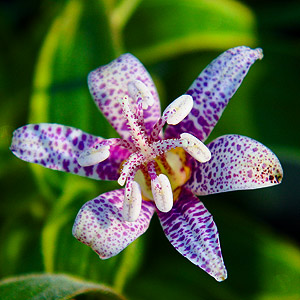 The Toad Lily is one of the outstanding flowering plants for shade, the botanical name is Tricyrtis hirta and with orchid like flowers they are winners in a shaded position.
Although the species usually has white flowers heavily spotted with purple the actual color varies and the white flowering Tricyrtis hirta 'alba' is as attractive as any.
Originally from the cooler regions of China, Japan, Korea and through to South East Asia where they grow in the foothills these are a shade loving plant. They grow well in cool climates although they may need protection from freezes and frosts.
In Japan they are grown commercially as cut flowers. Sought after hybrids include Tricyrtis hirta 'Miyazaki' bred at the Horticultural Research Station at Miyazaki University, Kyushu Japan.
Tricyrtis hirta Care
Tricyrtis hirta grow from rhizomes or crowns, and need to be planted around 2 inches deep in a humus rich soil.
Generally they will grow well in USDA Zones 4 – 9 given the right conditions.
They do require moisture during the growing season, however they are remarkably tolerant of dry conditions.
It is possible to propagate Tricyrtis hirta from seed, best planted in fall and with a cold winter they should germinate the following spring.
Tricyrtis hirta Varieties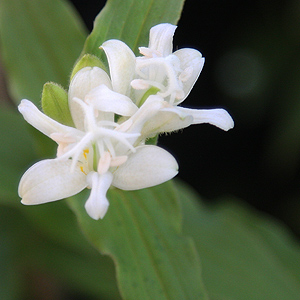 In Japan Tricyrtis hirta have been the subject of hybridization for a number of years. Sometimes crossed with other species including T. bakerii and T.affinis.
Most development has been through selective breeding of Tricyrtis hirta itself with improved flower color and size being achieved.
T. hirta 'variagata' has foliage with a cream rim.
T. hirta 'tojan' has lavender blue and white flowers, unspotted.
'Moonlight' , 'Empress', 'Samurai' and 'Hatatogisa are other cultivars that have appeared in recent years.
Where to Buy

Readily available from specialist growers.