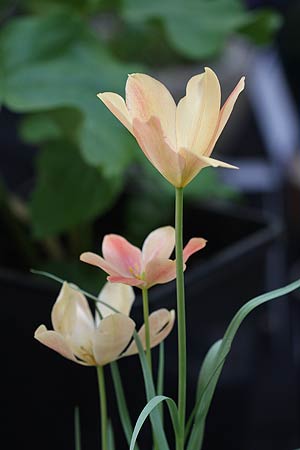 We think that the simple form of Tulipa batalinii makes it a most attractive species tulip.
To be really correct we should perhaps call this, Tulipa linifolia (Batalinii Group).
Originally from Soviet Central Asia, Turkestan to Iran. Like many tulips its native habitat is on a steep hillside, so a free draining sunny position is best.
A few article suggest that this is an easy species to naturalise into the garden, and this is true in climates where you get a cold winter. In warmer areas you may not find this so.
Care

A well drained soil and a sunny position are essential for this spring flowering species. try work well in the rock garden, but are equally at home in a container or pot.
A cold winter is required for the best results, so in warmer climates dig and chill for 3 – 4 months and plant out in mid winter.
Varieties

Tulipa batalinii will grow to 10′ flowering in spring a few named cultivars are appearing such as :
Tulipa batalinii 'Bright Gem',
Tulipa batalinii 'Bronze Charm'
Tulipa batalinii 'Red Gem'
Summary Information
Botanical Name : Tulipa batalinii
Common Name : None
Family Name : ‎Liliaceae
USDA Zone : 3- 8
Flowering Time – Spring
Flower Colour – Yellow with bronze tones
Height : 6 – 8 inches
Spread : Clump forming over time
Growth Rate : Medium to Fast
Soil : Humus rich, moist and well drained
Light : Full sun to a little shade
Humidity : Medium to Low
Container Growing : Yes
Frost Tolerance : Yes
Drought Tolerant : Yes