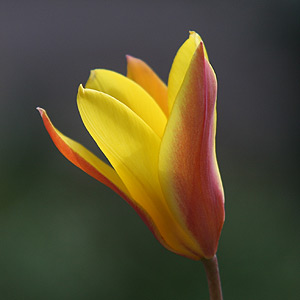 One of the popular Tulip species is Tulipa clusiana, the Lady Tulip, originally from Turkey, Iran and nearby areas right through to the Himalayas. It has been such a popular species for so many years that it now grows from France and Spain through to Greece in the wild.
First reported in cultivation in the early 1600s, it is first mentioned by the Dutch botanist Carolus Clusius also known as Charles de l'Escluse, so this dates it even earlier. And yes it is named after him.
The flowers of the species are yellow with the outer perianth suffused or tinged with red, and white in the center, held erect and a little statuesque when first opening.
Varieties
A number of varieties including Tulipa clusiana var. chrysantha with yellow interiors and var. cynthia with lemon yellow petals the outers are a paler red than the species.
Care

These are a wonderful species and are well suited to warmer climates, they do not need the cold winters as much as others.
Good drainage is still essential, in nature they were found growing in protected positions on rocky slopes. Fairly low growing often reaching no more than 20 cm but up to 30cm in height.
So a moist spring, a hot dry summer and good drainage in winter. They do require around 6 hours of sun in spring to flower well. On overcast days they may decide not to open at all, however they still look graceful.
We suggest dividing very 3 years to improve health and viability. Yes Tulipa clusiana can be grown in containers, plant in a group for best effect.
Some years Tulipa clusiana will simply not flower, the foliage is abundant, but no flowers, usually a sign that it needs to be divided. Dig them, remove the smaller offsets and pot them up, and then replant the larger bulbs of the group in re -vitalized soil.
Summary Information
Botanical Name : Tulipa clusiana
Common Name : Lady Tulip
Family Name : ‎Liliaceae
USDA Zone : 3- 8
Flowering Time – Spring
Flower Colour – Red with a black basal marking
Height : 9 – 12 inches
Spread : Clump forming over time
Growth Rate : Medium to Fast
Soil : Humus rich, moist and well drained
Light : Full sun to a little shade
Humidity : Medium to Low
Container Growing : Yes
Frost Tolerance : Yes
Drought Tolerant : Yes