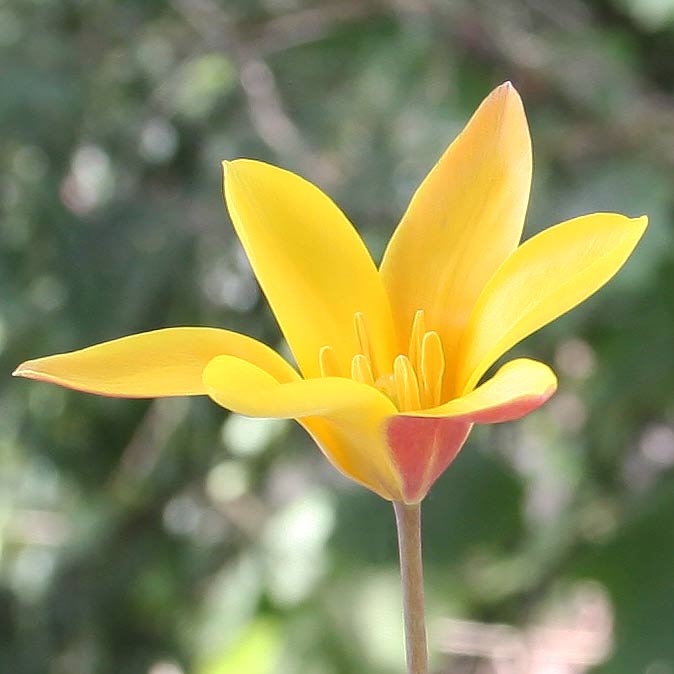 Another fairly easy care type Tulipa kolpakowskiana is species tulip. Flowering Mid spring with nice clear yellow blooms stained crimson on the exterior.
Found in the foothills of the mountains in Kazakhstan and Turkey, with sunny yellow flowers Tulipa kolpakowskiana gets its name 'sun tulip'.
Some Tulipa kolpakowskiana bulbs produce multiple flowers and this species likes full sun and a well drained soil. It gets its name from its need for full sun for the flowers to open
Yellow flowers streaked with red make this a great bulb for adding a little subtle colour to the garden and it has a nature that makes it suitable for naturalizing into an open woodland.
Care

Plant fairly deep at around 5″ (12cm) and ensure that the drainage is excellent. Remember that full sun is required if the flowers are to open fully.
Will grow well in a deep container and propagation is easiest by division of established clumps. However it will come from seed for those patient among us.
Summary
Botanical Name : Tulipa kolpakowskiana
Common Name : Kolpakowsky's tulip
Family Name : ‎Liliaceae
USDA Zone : 3- 8
Flowering Time – Mid to Late Spring
Flower Colour – Yellow with red streaks.
Height : 8 inches
Spread : Clump forming over time
Growth Rate : Medium to Fast
Soil : Humus rich, moist and well drained
Light : Full sun to a little shade
Humidity : Medium to Low
Container Growing : Yes
Frost Tolerance : Yes
Drought Tolerant : Yes