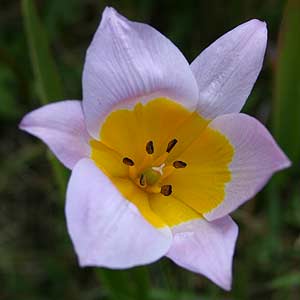 Tulipa saxatilis is originally from Crete, Rhodes and through to Southern Turkey where it is found on rocky outcrops as well as open field.
So when we think of Crete we think warm Mediterranean summers, and this is true, however Crete does have cold winters, it snows, so a cool winter is needed, or you may have to dig the bulbs and give them some time in cooler.
Open lilac pink flowers with a vivid yellow centre, sometimes one flower and up to three for the larger bulbs.

Care

In warmer climates this is one of the easier species tulips to grow. It loves a warm summer.
You will need a dry summer and reasonably cold winters for this species to flower well.
Plant the bulbs at 4 – 5 inches deep for best results.
This is a bulb that grows well in a deep container, and propagation is easiest by division of established clumps.
The bulbs are small, so do not worry when you dig them, "From little things, big things grow".
Summary Information
Botanical Name : Tulipa saxitalis
Common Name : None.
Family Name : ‎Liliaceae
USDA Zone : 3- 8
Flowering Time – Spring
Flower Colour – Lilac with Yellow Centres
Height : 6 inches
Spread : Clump forming over time
Growth Rate : Medium to Fast
Soil : Humus rich, moist and well drained
Light : Full sun to a little shade
Humidity : Medium to Low
Container Growing : Yes
Frost Tolerance : Yes
Drought Tolerant : Yes