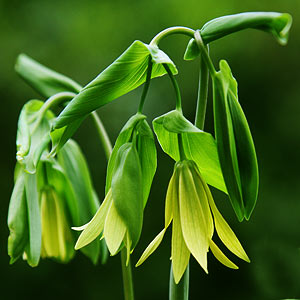 Wonderful bright yellow bell shaped flowers on tall stems reaching 24″ make Uvularia grandiflora live up to its common name of 'Big Merry Bells' .
Blooming in spring, the flowers open sequentially, hanging gracefully above the bright green foliage.
Although these are a woodland plant, you could bring a little spring color to even a small balcony with a pot full of these golden wonders.
Also known as "Large-flowered bellwort" these plants is a joy in the spring the garden.
You will notice that the foliage has an interested perpetually 'wilted look', this is the natural twisted nature of the plant.
In mature clumps you will also see that some of the older stems do not flower. What happens is that the stems are divided, one sterile the other flowering, again this natural. However with up to 4 flowers on a stem, and the fascinating foliage, this is not a problem.
Growing from rhizomes, the root system is very shallow, so plant them where they will not be disturbed.
Are they edible? , some say yes, these leaves are said to be edible as are the roots, however we do not recommend eating them as we are not positive on this.
Care

Uvularia are regarded as a woodland plant, widespread in both the US and Canada. It is a plant that does require a well drained part shaded position to do well.
They grow well in sandy loam around the drip line of larger trees. If planted in deep shade you are unlikely to see many flowers and general growth will be poor.
For best results
A humus rich well drained soil.
Moisture from spring onwards.
Water well through the first few summers
Additional water during dry summers, especially container grown plants.
Part shade, shelter from hot afternoon sun is essential.
Uvularia can be grown in pots in a shaded position on a patio.
Well suited to USDA Zones 4 – 9 in the garden, if planted in the correct position.
Uvularia Varieties

Uvularia grandiflora var. pallida – Very pale yellow flowers with twisted petals. Unusual, however the contrast of the pale flowers against the foliage is attractive.
Other Uvularia species include
Uvularia sessilifolia.
Uvularia perfoliata.
Both of these are smaller growing than Uvularia grandiflora but look great in a rock garden
Growing Uvularia grandiflora from seeds

We find Uvularia grandiflora a difficult plant from seed. So unless you are enthusiastic we suggest looking for rhizomes for sale.
Method for growing from seed.
Seeds need to be planted fresh, and require warmth and moisture. They then need a cold winter period.
You could mimic nature using a plastic bag.
Seeds are placed fresh in the bag for a around 2 months.
Keep them in a warm position.
Then transfer the bag to the refrigerator (NOT THE FREEZER) until spring.
In spring, after the frosts have gone. Plant them out.
Or plant them out earlier into a cold frame.