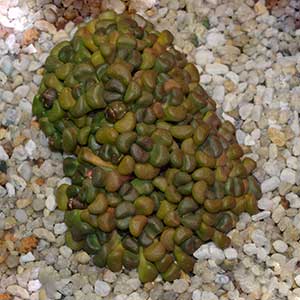 Aloinopsis plants and species are originally from South Africa and are a low growing succulent that produce wonderful 'daisy' like flowers in winter.
Aloinopsis schooneesii is perhaps one of the most sought after species.
Aloinopsis Care and Growing Conditions
Species differ a little in care requirements, but in general Aloinopsis grow well in pots or containers and prefer a position in full sun in the morning with some protection from the hot afternoon sun.
Like many succulents they appreciate a dry period between watering, so allow to dry out thoroughly and remember to keep dry during winter until spring.
A free draining growing medium is essential and as these plants have tap roots a deep container is advisable. In cooler climates these are strictly an indoors plant in winter.
Fertilize when plants are in active growth with a balanced liquid fertilizer. When buying plants look for specific growing notes for particular species. Plants need little extra care, do not need to be pruned, should be repotted every 3-4 years and, some species look great as bonsai's.
Varieties
With a number of species available for sale, some of the best are listed :
Aloinopsis luckhoffii.
Aloinopsis schooneesii.
Aloinopsis spathulata,.
Aloinopsis rubrolineata.
Aloinopsis peersii.
Propagation
Older clumps can also be divided in spring.
Aloinopsis are available for sale from the following nurseries
KARA CACTUS & SUCCULENT NURSERY
Small, Pacific Northwest retail mail order specialty nursery. Our goal is to provide to the public quality, well-grown succulent plants at a reasonable and fair price. We also specialize in rare seed-grown Aloinopsis, a good selection of succulents and cacti.
www.KaraCactus.com