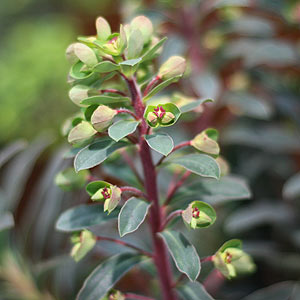 A varied group of succulents from the Mediterranean, Euphorbia characias have also been highly used in hybridisation with many useful garden plants resulting. They thrive in dry sunny positions and are a useful addition to the perennial border or rock garden.
A succulent perennial plant from the western Mediterranean (Portugal, Spain) suited to full sun and dry conditions.
Euphorbia characias wulfenii is an upright species and will grow to 3′ (1m). Euphorbia characias 'Glacier Blue' has blue green foliage and is a smaller growing form to 20″. Foliage is edged with cream, white flowers during spring.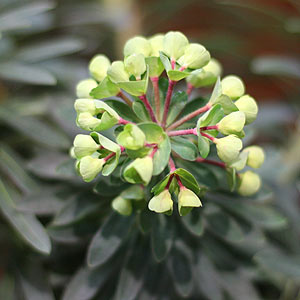 Care
In a well drained soil and a sunny position this is a very easy care group of plants. They grow well with Lavender, Wall Flowers and Statice and make a useful addition to any garden border that is on the dry side.
Pruning
After flowering this is a plant that should be pruned back. If you look at the base of the plant you will see the beginnings of new growth (basal growth). You can prune right back to just above this new growth.
Varieties
Euphorbia characias ssp wulfenii
Euphorbia characias ssp characias – (Pictured Above)
Euphorbia characias ssp wulfenii – (Pictured Right)
Euphorbia characias 'Silver Swan' has green foliage with grey edging
Euphorbia characias 'Tasmanian Tiger' is a variegated form
Euphorbia characias 'Portuguese Velvet'
Euphorbia characias 'Blackbird'
Euphorbia characias 'Black Pearl' also with a place in the garden