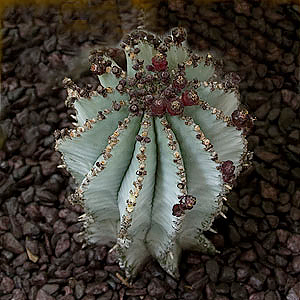 Nearly every gardener has heard of Euphorbias and many have grown them. Understanding what a diverse and fascinating group of plants is another issue.
From the well known commercial garden plants such as Euphorbia 'Diamond Frost' and Euphorbia milii commonly known as the 'Crown or Thorns', with over 2000 species this is a large genus.
Although some do go by the common name of 'Spurge' this is a little simplistic when you see the huge variation in the genus. So Euphorbia polygona, pictured right, is not a species that is often called 'Spurge'.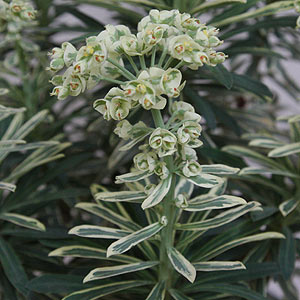 Native to Africa and nearby areas this group of plants is as diverse as any. We look at some of the more popular, and some of the more obscure species of this fascinating group of plants
Euphorbia Varieties
Three of the common, and two of the rarer varieties are listed below.
Euphorbia-flanaganii or 'Medusa Head' is from the Cape of Good Hope.
Euphorbia obesa is rare in its natural habitat, but well known in cultivation, it does well in pot culture.
Euphorbia pulcherrima, commonly known as poinsettia and is well known as a symbol of Christmas.
Euphorbia milii is known as the 'Crown-of-thorns' or 'Christ Plant'
Euphorbia lactea is known as 'Mottled Spurge'
So from great foliage plants that will grow well in the garden such as Euphorbia characias 'Silver Swan', to the unusual specimens such as Euphorbia obesa which makes a great specimen in a container, Euphorbias have it all.
Care
Being such a diverse genus general care notes are a little irrelevant. However one precaution should be taken when handling all Euphorbia including Euphorbia characias 'Silver Swan', pictured right.
Wear gloves and make sure that the milky sap does not come in contact with the skin. The sap is an irritant, some people react very badly to it. It is also advisable to wear eye protection.
An attempt to generalise care requirements, especially for container grown plants leaves us with these four basic points.
Cultivation
Full sun to part shade.
Free draining soil.
Hold back on water during dormancy.
Only water once the container has dried out, never let the pot sit in water.
You may also be interested in
Euphorbia amygdaloides
Euphorbia characias
Euphorbia 'Diamond Frost'
Euphorbia tirucalli
Euphorbia milii
Euphorbia are available for sale from the following specialist nurseries.
SILVERTHORN RANCH NURSERY – phone: 760-728-9051 fax:
1826 S. Alturas St. Fallbrook California 92028
Wholesale growers and online suppliers of Euphorbias, Cites Permits for export. Assorted sizes 4″ up to 30 gallon box plants

SEQUIM RARE PLANTS
500 N. Sequim Ave. Sequim, WA 98382
Small mail order nursery with a very interesting range of perennials and other plants. Includes: Euphorbia and many others
DIGGING DOG NURSERY – phone (707) 937-1130
PO Box 471 Albion CA 95410
A spectacular selection of hard to find perennials, ornamental grasses, shrubs, trees and vines for your garden.