Crassulaceae
Graptopetalum paraguayense is known as the 'Mother of Pearl Plant' or 'Ghost Plant'.
A native of Mexico, is a small (to 0.2m) perennial succulent with dense rosettes of grey leaves on fleshy stems with a pinkish/reddish tinge and a silvery bloom.
Foliage on stems appears erect and then bends or droops with time.
Spring flowering, with near white long lasting star shaped flowers.
Graptopetalum paraguayense Care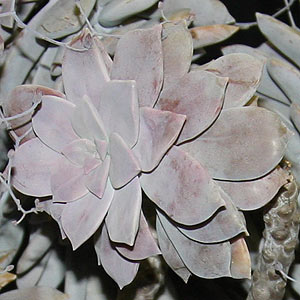 Requires full sun and a well drained soil, can be grown in the rock garden or in pots. This is a fairly cold hardy succulent that naturally spreads to form a clump.
Well drained sandy soil.
Full sun to light shade in warmer climates.
Excellent in hanging baskets.
Propagation
This is a species that produces offsets regularly so propagation is easy in this manner. Also easy from stem or leaf cuttings, also possible from seeds
Varieties
Graptopetalum paraguayense 'Superbum' (pictured right)
Graptopetalum paraguayense ssp. bernalense