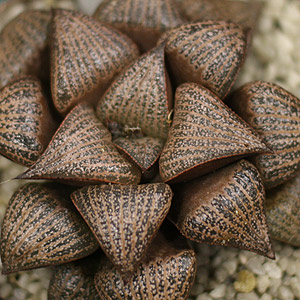 A low growing species, Haworthia magnifica var. splendens makes a wonderful specimen in a container. It is another stemless Haworthia species with mottled bronze succulent leaves.
Over time this fascinating little plant will form a good sized rosette with the triangular leaves striped with a mottled black forming a nice pattern.
Flower appear on a tall stem to around 30cm, white with a touch of brown. A number of individual flowers will appear on a single stem however they do open sequentially.
Care
This is a slow growing species, and it does require good drainage like all Haworthia. Best in strong filtered light so well suited to growing indoors in a container.
Watering
Water regularly during summer, however Haworthia magnifica var. splendens does need the growing medium to dry out between watering's. In winter hold back on the water.

Propagation

Usually seed is the only option for propagation as offsets rarely occur.
You may also be interested in
Haworthia limifolia
Haworthia magnifica var. splendens
Haworthia attenuata
Haworthia reinwardtii
Haworthia maughanii