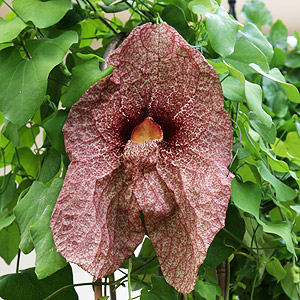 If you are looking for a spectacular flowering vine then Aristolochia gigantea could be the one, but only if you plant it in the right position.
It needs to be planted where you can see it, but preferably 'down wind' as we will explain.
It was fascinating to read an article suggesting that you could use these as cut flowers, we think not, unless you have a very dull sense of smell.
So although this plant which is originally from Costa Rica, Panama and surrounding areas, is a fast growing evergreen vine with fantastic looking flowers, the flowers themselves smell very unpleasant smelling, in fact they stink. They are are a little less offensive than their relative A. grandiflora, and this is still a spectacular plant, just keep your distance.
Aristolochia gigantea also known as Brazilian Dutchman's Pipe and Giant Pelican Flower. It will grow to 15 – 20′ in height depending on conditions, flowering in late spring to mid summer.
Care
Prefers and a humus rich moist soil light shade to full sun. USDA Zone 10-12
This is a tropical plant, however it can be grown indoors or in a greenhouse / conservatory. You will find seeds for sale more readily than plants.
Many gardeners choose to grow this as an annual as over wintering in the USA is a little difficult.
You will need a protected warm position with good filtered light to part sun.
Keep moist but not wet in the growing period, spring through summer.
Plants can be cut back in late winter if they have survived the cold.
 
Varieties
Aristolochia grandiflora – Larger flowers and much smellier….
Propagation
Seeds are best soaked in water for two days to help soften the protective coating and speed up germination.
We prefer to plant seeds in individual biodegradable pots.
Mist newly planted seeds until germination, cover with a plastic bag to maintain humidity.
Germination usually occurs in around 3 – 4 weeks.
Plant seedlings out in late spring to early summer.