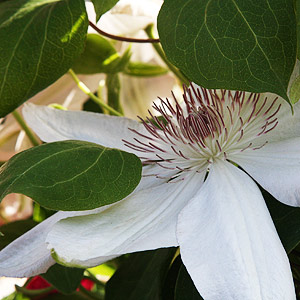 If you are looking for a white flowering clematis then try Clematis 'Henryi'. This is a stunning pure white clematis that will reach 3m. Masses of single white flowers from late summer through to fall. It has been in cultivation for a century or more, very reliable and readily available for sale from online nurseries.
Flowering from early summer to fall with large flowers to 5 – 6 inches across, this white species looks stunning when left to grow over a trellis or even when left to wander on its own through trees and shrubs.
How good is C. henryi ?
It have been in cultivation for over 150 years, it has won numerous awards including the RHS 'Award of Garden Merit', and it is still one of the best white flowering clematis of all.
Landscaping uses :
As a flowering (but deciduous) screen or cover for a fence or wall.
To cloak an arbor and add atmosphere.
For the decorative nature of the flowers and foliage.
Specimen plants to grow on a tripod or obelisk.
s a rambler to be allowed to grow through a tree canopy.
Care
General Care
Clematis Henryi prefers a cool root run and is best planted where it reach up to the sun and light.
Try growing over an arbor or obelisk or perhaps allow it to wander through small trees.
A slow release all purpose fertiliser applied in spring once the new buds are starting to show is beneficial.
Well suited to USDA Zones 4 – 8.
Looking at Clematis in general
Pruning
Like most clematis Clematis 'Henryi' can be pruned back heavily in spring if required.
Problems
Clematis not flowering.
Use a low nitrogen fertilizer, otherwise you will get lots of foliage and no flowers.
Brown foliage on the lower part of the plant
Usually due to lack of water.
Clematis plant just not growing
Often due to poor root development.