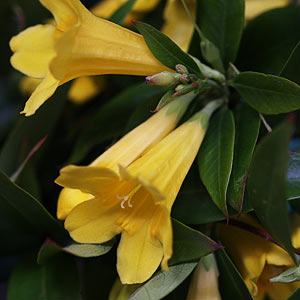 If you are looking for a yellow flowering climbing plant then Gelsemium sempervirens could be worth considering.
Long bright yellow trumpet shaped flowers this plant is commonly called 'Yellow jessamine', False jasmine or False jessamine as well as 'Caroliana jasmine'.
A woody twining plant the flowers form in spring to summer in clusters. It is a plant that is also use in homeopathy.
Excellent against a bare wall in a sunny position and easy to grow in USDA Zones 7 – 11. Flowers are fragrant and the plant is easily pruned to control growth.
It native habitat is in wooded areas or thickets, usually dry, and always well drained.
Landscaping uses :
As a garden plant it is useful a climbing plant to cover a fence or to grow over a climbing frame of some sort.
It can also be grown as a mound forming shrub.
Care
Although only hardy to USDA Zones 7 – 11 the yellow flowering vine is very attractive and well worth a try.
It grows best however its roots are in the shade and it can grow into the sun.
General Care
Best is full sun and a position which has a humus rich well drained soil.
Can be grown in light shade , however flowering may be limited.
Best in a position protected from cold winds and frosts.
Provide a cool root run by mulching.
Pruning
Prune after flowering, remember to wear gardening gloves as this plant is poisonous and the sap can also be a skin irritants.
Problems
Generally problem free if grown i the right position.