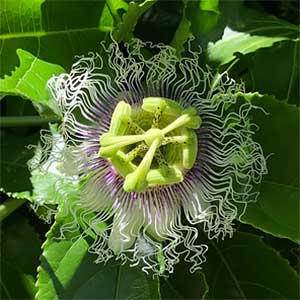 With hundreds of species including Passiflora incarnata and Passiflora caerula as well as Passiflora Edulis, the Passion Vine or Flower as it is called is a genus characterized by being a climbing vine with many varieties requiring a sub tropical climate.
Valued as a fruiting plant as well as for being a fascinating ornamental climbing vine or small shrub.
Grown both for the highly attractive flowers as well as for the edible fruit of some species, in the right climate these are an easy care plant.
Care
General Care
These are a plant that like a warm climate, best in USDA Zones 9 and above, however if you are prepared to overwinter indoors, then they can be grown in much cooler zones.
In general a humus rich moist but well drained soil in full sun, in cooler areas try planting against a wall or fence facing the sun for the majority of the day. Mulch well to provide that cool moist root run that helps these plants thrive.
Varieties
Passiflora incarnata is the purple passion flower, reaching a height of around 8ft with a similar spread and it is perhaps the easiest and hardiest of all. Suited to zone 5, however a well protected sunny area will certainly help. The flowers are intricate, purple and white, fragrant the fruit is edible and butterflies love the flowers.

With its trademark purple fruit Passiflora Edulis is the one commonly called the 'passion fruit' however yellow varieties are also available.

Passiflora caerula has some of the prettiest and most vibrant flowers of all.

However Passiflora quadrangularis or 'Giant Granadilla' is the largest fruiting species, fantastic flowers and can be grown from seed.

For flowers, Passiflora alta with its red sepals and purple stamen is commonly called 'Ruby Star', and yes it produces edible fruit as well.
Where to buy
Passiflora Plants are available for sale from the following nurseries
---
GEORGIAVINES.COM – phone: 9129965467
2309 Woodland Way Brunswick GA 31520
Specializing in Passiflora such as: Nigradeia, Kewensis, Riparia, Tulea, Yucatanense, Sunburst, Fledermouse, Atropurpura, Triloba, Holosericea, and Ruby Glow Also plants and seeds
BRUSHWOOD NURSERY
PO Box 483 Unionville, PA 19375 610-444-8083
Huge variety of clematis, passion flowers, climbing roses, jasmines and many other climbers