Silver Lady Fern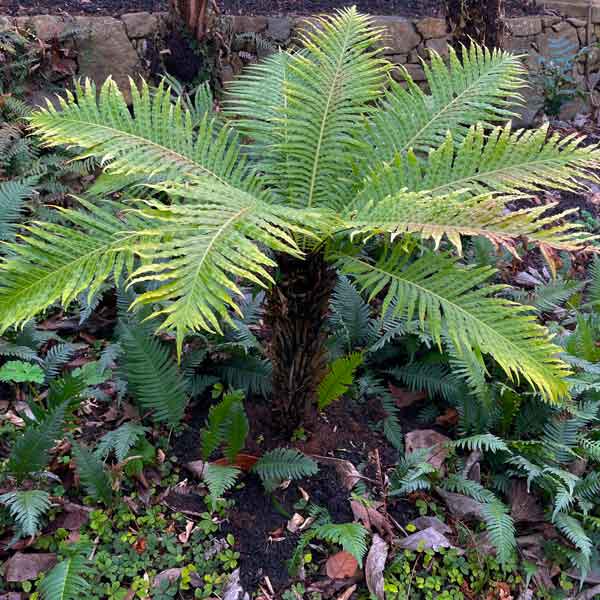 One of the best tree ferns for indoors is the Silver Lady Fern, the botanical name is Blechnum gibbum and it comes from the islands of the Pacific such as Fiji and New Caledonia.
This is a dwarf tree fern reaching no more tham 6ft (2m) in height spreading to around 6ft and with a slender trunk.
Taller growing Tree Ferns include :
How to grow the Silver Lady Fern.
You will need a position out of direct sun and with good humidity.
Outdoors you need UDSA Zone 10, or a protected position (frost free) in Zone 9.
Use a moisture retaining potting mix or soil with good drainage. Try mixing 30% leaf mold with normal potting mix for good results.
In containers you can sit the pot on top of pebbles in a a saucer of water. This can help increase humidity.
When watering, water the soil rather than the foliage, this allows the foliage to stay dry.
Use water that is at room temperature. Fill the watering can or bucket the day before watering to allow it to get to roomtegmerature, this will also help allow any chlorine or fluoride in the water to dissipate.
Use a 1/2 strength liquid seaweed and fish fertilizer once a year in spring.
Mulch around the plant even in pots to help maintain moisture.
Never over water, allow the top of the soil to dry a little between watering.
Pruning
The only pruning required is the removal of old dead fronds.
Problems
Fronds turning brown – Usually caused by over watering or poor air circulation. Treat this immediately by repotting in a free draining potting mix with good drainage holes in the pot.
Summary Informatiom
Botanical Name – Blechnum gibbum
Common Names – Blechnum Silver Lady, Dwarf Tree Fern, Miniature Tree Fern.
Climate – Tropical to sub tropical rainforest areas.
Flower Colour – N/A
Flowering Time – N/A
Fragrance – No
Foliage – Glossy mid to deep green.
Growth rate – Medium to fast.
Growth Habit – Rosette of fronds with a short trunk over time.
Height – To around 2 metre
Spread – To around 1.5 metre
Position – Shade / Dappled Shade – Not direct sun.
Soil – Humus rich, moist with good drainage.
Frost tolerance – Not suited to frost prone areas, however it can regrow after frost damage.
Drought tolerance – Not suited to dry conditions.
Pruning
Pruning is generally not required except for removal of old dead fronds.
Regarded as Cat and Dog friendly.