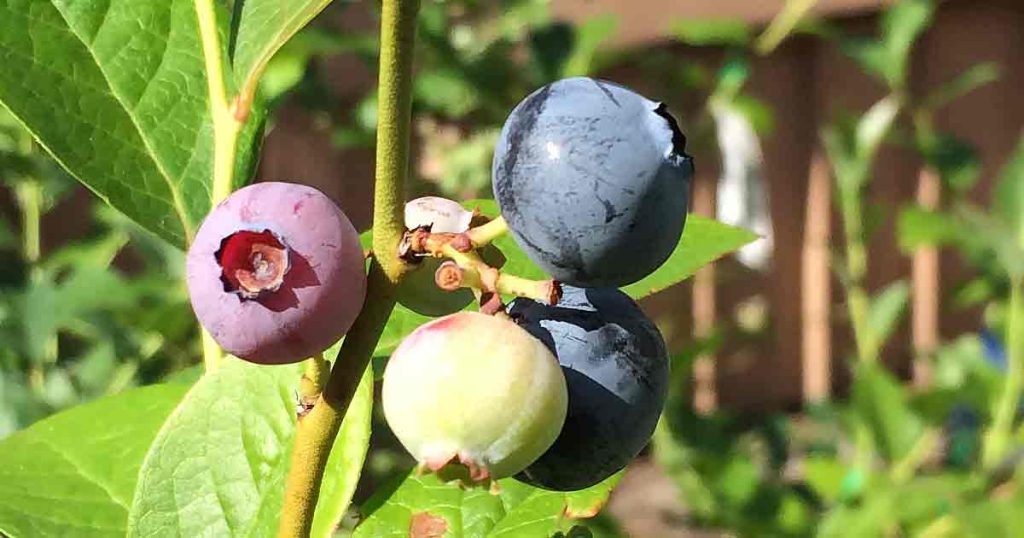 Blueberry Varieties – Ripening Time
Generally Blueberry Plants are classed according to ripening or picking time.
Early to Mid season
Mid season
Mid to Late
Late season

So in areas such as Michigan which is a big Blueberry producer, you will have varieties that will fruit from Early July through to Mid September.
They are also classed in terms of 'Chill Factor'.
This is the number of hours required below 45 F to set fruit.
Other factors in choosing Blueberry Varieties
Fruit Taste.
Yield.
Suitability for container growing.
Attractiveness of the bush itself.

Blueberries plants and trees are readily available for sale online and have become one of the most popular berries of all for the home gardener.
How to Grow Blueberry Plants
All varieties prefer an acidic soil that is humus rich, fertile and well drained.
Choose a warm sunny position.
Plant and water well through the first summer and any dry periods.
Much around the plants to maintain a cool moist root run.
In hotter areas provide some protection from hot afternoon sun.
They can be grown in pots, try a large pot, a good quality potting mix and some coco peat mixed through.
Blueberry plants will need protection from birds, so netting is advisable.
Pruning
Before new growth commences in spring, prune away spindly or twiggy weaker growth. Concentrating fruit production into the stronger main stems
Blueberry Varieties by Name
These are all popular species and cultivars for sale.
Vaccinium Chandler is the largest of the blueberries
Vaccinium 'Brigitta'.
Vaccinium 'Sunshine Blue',
Vaccinium corymbosum or 'Northern Highbush Blueberry'
Vaccinium angustifolium or 'Lowbush blueberry'
Blueberry Plants By Harvest Time
Early to Mid season Varieties
Duke, Hannahs Choice, Polaris, St Cloud, Sweetheart, Bluejay, Huron, North Blue, Northland, North Sky, Patriot, Spartan, Sierra
Mid season
Bluecrop, Blue Haven, Caras Choice, Chippewa, Draper, Friendship, Blue Ray, Elizabeth, Superior, Toro, Ornablue, Herbert, Little Giant, Meader, Rubel.
Mid to Late
Berkley, Bluegold, Brigitta Blue, Bonus, Coville, Jersey, Legacy, Nelson
Late season
Aurora, Elliot, Liberty, St Cloud.
Blueberry plants are available for sale from the following growers
STARK BRO'S NURSERIES& ORCHARDS CO. – phone: 1-800-325-4180 fax: 573-754-8880
PO Box 1800 Louisiana MO 63353
Full line of fruit including Blueberry.
BLUEGRASS BLUEBERRIES – phone 270-432-5836
8080 Subtle Road Edmonton, Kentucky 42129
emailblueberry@scrtc.com
Specializing in Blueberries only.
THE KENTUCKY BLUEBERRY GROWERS ASSOCIATION INC – phone 270-432-2602
8080 Subtle Road Edmonton, Kentucky 42129 – email kbga@scrtc.com
Blueberry bushes, seeds etc listings.