Dragon Fruit or Pitaya is an attractive and tasty tropical fruit grown for the sweet tasting red or white fruit.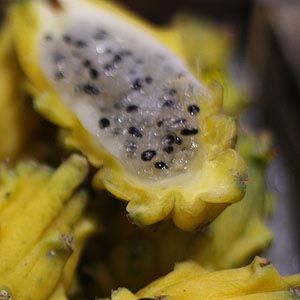 Originally from South America Hylocereus (sweet pitayas or red pitayas) and Stenocereus fruit (sour pitayas or yellow pitayas) or Dragon Fruit is grown widely in South East Asia.
Dragon Fruit are actually the fruit of cactus species. Dragon fruit is said to have high nutritional values and are generally eaten raw and fresh.
Care
Although they have been popular in Asia and South America for many years it seems that Dragon Fruit have just been discovered in restaurants from California to New York. Although if you actually want to grow Pitaya, then California is the place you want to be.
For a number of years that have been imported from Vietnam, today a few growers are adding them to orchards in California. You can even buy Starburst with a Dragon Fruit Flavor its called Baja Dragon Fruit. However its much better in deserts.
One of the major attractions is the color of the fruit, brilliant pink, however you can also get yellow ones. Inside they look the a little different depending on variety, white flesh for some, a rich pink for others, the flesh looks sort of translucent, with black seeds just to add a bit more co lour.
Looking at Fruit Trees in more detail
Varieties

The botanical name is Hylocereus undatus, Hylocereus megalanthus or Hylocereus costaricensis (the pink one inside) depending on variety.
Dragon Fruit or Pitaya trees are available for sale from the following specialist nurseries.
MATTSLANDSCAPE.COM – email Matt@Mattslandscape.com
32005 Avenida Evita San Juan Capistrano, Ca., U.S.A. 92675
Mail order worldwide nursery offering 1000s of Epiphyllum, Dragon fruit, Echinopsis, Schlumbergera, Cacti Epiphytes and various cacti of all kinds. Supplies, Botanical books, videos and the home of Epi-Cacti Forums.
www.Mattslandscape.com