Kumquat trees are native to China and are a small slow-growing, compact, evergreen trees eventually reaching about 10′. Suited to growing in containers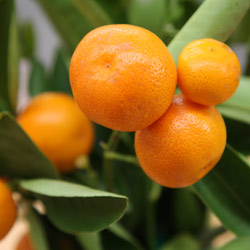 Originally classified as a citrus tree, and they are related, however they were given their own genus Fortunella. Also known as Cumquat they are all the same thing, although four distinct species are available.
What distinguishes them from citrus is that you can eat the skin, in fact the skin itself is reasonably sweet, the pulp is more sour, and this contrast makes the Kumquat unique. Kumquats (picture right) are grown both for the fruit and as an ornamental plant. Kumquats are suitable for growing both as container plants or in the garden.
Fragrant flowers in spring followed by attractive small, round or oblong citrus fruit. The warmer the climate the better the fruit, although Kumquats will grow in cooler areas.
So grow them as ornamentals, or grow them for the fruit. Either way you will win, they look great, and you can use the fruit to make preserves, or add them to Asian dishes.
Care
Growing conditions
These are a cool growing plant, in fact they will grow in colder climates than any other citrus tree.
They grow well in a humus rich, well drained moist soil.
They love sun, however will grow well in part shade and still fruit.
Landscaping and Garden Uses
Reaching only around 10 ft in height they are useful not only for the fruit but also as an ornamental tree.
These are excellent trees to grow in containers, simply as an ornamental in an attractive container on a balcony or patio. The foliage is deep green and attractive, the fruit forms as green and then turns to a golden yellow providing create contrast and colour.
Kumqaut Varieties
Fortunella japonica ('Marumi' or round kumquat)
Fortunella margarita ('Nagami' or oval kumquat)
Fortunella hindsii ('Hong Kong' kumquat)
Fortunella crassifolia ('Meiwa' or large kumquat)
Propagation
Propagation of commercial varieties is by grafting.
Kumquat trees are available for sale from the following specialist nurseries.
STARK Bro's NURSERIES& ORCHARDS Co.
PO Box 1800 Louisiana MO 63353 – phone: 1-800-325-4180
Originators of Red and Golden Delicious apples. Full line of fruit, Apricots, Berries, Cherries, Nectarines, Pears, Grapes, Nuts, shade and flowering trees, shrubs roses and small fruits.Includes: Walnuts, Carpathian English Walnut, Lake English Walnut, Black Walnut and others
www.starkbros.com
FOUR WINDS GROWERS
phone: 877-449-4637 ext. 1
www.fourwindsgrowers.com