The most popular of all fruit trees for the home garden is the Lemon Tree. Easy to grow, lots of fruit and usually useful fruit as well.
Although they are not tolerant of cold, they can survive and fruit well in sheltered sunny positions.
If you live in the right climate, then the lemon tree would be the first fruit tree in most gardens.
If you lack space, look for a dwarf lemon tree, or perhaps try an espaliered type. (pictured below)
Lemon Tree Care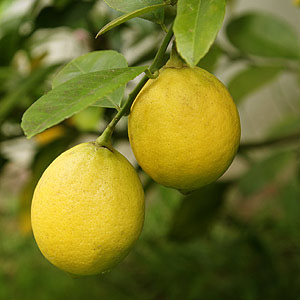 Lemon trees are easy care in warmer zones, new dwarf cultivars are well suited to growing in pots and containers.
Pruning is generally not required other than the removal of damaged or dead wood.
Protection from frost is essential.
In poorly drained soils, mound up the soil to improve drainage.
A sunny position in a well drained soil is best.
Mulch to suppress weeds and maintain a cool root run.
Do not under plant or dig around lemon trees as they have a shallow root system.
Use a specialist citrus fertilizer for best results.
Varieties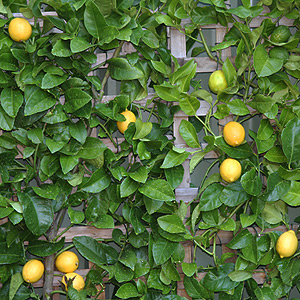 We also have seedless varieties such as the Eureka seedless, Californian Seedless and a few others.
And of course the dwarf types, mostly grafted onto a dwarfing rootstock such as 'Flying Dragon'.
The dwarf varieties are the best for growing in containers or smaller home gardens.
Eureka
This is a thornless variety with medium sized fruit. The fruit is acidic, the tree is self pollinating
Lisbon
One of the most popular for commercial growers. An upright spreading tree, few seeds and an acidic fruit
Meyer
This is a 'hybrid lemon', the Meyer Lemon is excellent for the home garden
Bearrs
Fast growing, thorny but excellent acidic fruit
Lemon trees are for sale online from the following growers
FOUR WINDS GROWERS
phone: 877-449-4637 ext. 1
www.fourwindsgrowers.com
STARK Bro's NURSERIES& ORCHARDS Co.
PO Box 1800 Louisiana MO 63353 – phone: 1-800-325-4180
Originators of Red and Golden Delicious apples. Full line of fruit, Apricots, Berries, Cherries, Nectarines, Pears, Grapes, Nuts, shade and flowering trees, shrubs roses and small fruits.Includes: Walnuts, Carpathian English Walnut, Lake English Walnut, Black Walnut and others
www.starkbros.com