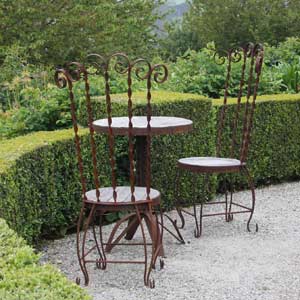 Call it what you will patio or outdoor furniture brings relaxation to outdoor living. Relaxing after a busy day, or entertaining friends you can create a wonderful relaxing deck or outdoor eating area with the right selection of chairs, tables and accessories.
From a complete dining setting that will be a permanent fixture on a patio through the year, to garden chairs where yo can sit and enjoy a book or just relax you can now buy it all. However choosing the right outdoor furniture does require a little research.
Garden Furniture including garden benches, metal garden furniture, wooden and iron garden furniture, bamboo garden furniture and long lasting plastic or PVC garden furniture should all be specifically designed for outdoor use.
Iron and Timber Garden Furniture
When searching for garden or outdoor furniture such as wooden lounge chairs you will need to look for weather resistant and Ultra Violet resistant materials.
Timber such as teak can be long lasting and properly coated metal and iron garden benches and tables will last with a minimum or care, poorly built or coated garden furniture may be cheap. however it may not last more than 2 – 3 seasons.
Luxury garden furniture will not be cheap, however if it's style and comfort you are after then cheap or discount furniture will not be suitable in the long term.
Garden furniture is available is many materials including traditional (antique) iron and metal as well as simple wooden benches, bamboo or stone benches. Traditional cast iron garden furniture is always popular.
Where to place furniture in the garden.
Outdoor Furniture allows gardens to be more user friendly, a garden bench can place to sit in a cool shaded position, or somewhere to enjoy the sun. Garden tables can provide an outdoor room for a meal or drinks with friends.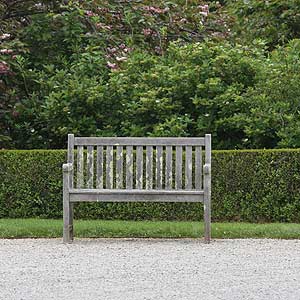 When placing garden furniture carefully consider access and position in relation to the sun. If you are after a shaded position consider placing furniture beneath a deciduous tree.
You can also use some furniture as focal points in the garden, if you cleverly position furniture at the end of site lines it can act not only as a functional sitting area but also as a design element in the garden.
When placing garden furniture carefully consider access and position in relation to the sun. If you are after a shaded position consider placing furniture beneath a deciduous tree.
Remember that garden furniture will be exposed to weather year round, so make sure that benches and table legs are not sitting directly onto lawns.
Outdoor furniture materials.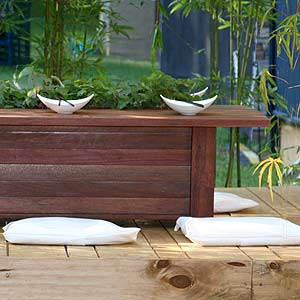 A quick review of garden furniture materials reveals a few fact to consider before buying.:
Teak
Long lasting and hardy, the color will change to a silvery gray unless you oil the timber twice a year. However this is the same with many timber products.
Iron.
Cast and wrought iron are popular materials for garden furniture. They can be heavy, so are not overly suited to positions where you need to move them around. Best on a hard surface and where they will dry out regularly, rust can be an issue however many surface treatments are available to prevent this.
Stone and Concrete.
Long lasting durable stone is an option worth considering. It tends to be a permanent feature so choose where you place it carefully. Concrete has also come a long way in recent years with some interesting uses appearing in gardens.
PVC
Cheap, lightweight and with some very practical applications. You do need to look for UV resistant properties, however maintenance is negligible.
Timber
You do need to be careful here as timber is more likely to be affected by sun, rain and temperature than some other materials. In the right place, the right sort of timber looks great and can last well.