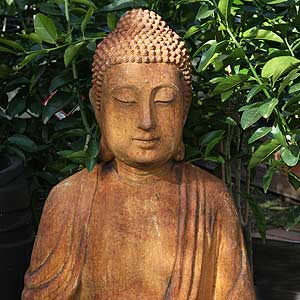 Ornaments in the garden can look great, and you can use a range of materials as well as design styles. Choosing the right ornament for the garden depends on your personal taste, however we have a few ideas to help you along,
What are basically decorative garden accessories are an essential addition to any landscaping project, garden makeover or even as an addition to a small courtyard. Ornaments include statues, weather vanes, sun dials and other decorative garden features and they are just as an integral part of garden design as plants and water features.
Ornamental Statues have been used in the garden for centuries both as decorative pieces, religious symbols and as memorial or commemorative works.
Moving away from traditional statues we now find metal, stone and even solar powered ornaments for sale.
You look for ideas in a religious theme you and both Indian and Japanese cultures are good place to start.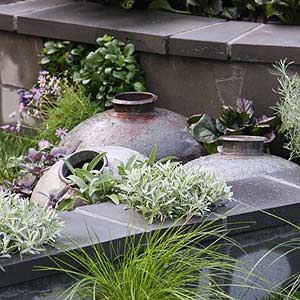 What can be used as an ornament in the garden ?
With a little imagination many functional objects can be used as purely ornamental features. In themselves garden pots can be ornamental as well as functional.
One idea is to move away from the functional nature and use object purely for the shape and form. In this idea we have garden pots strategically placed to create interest, they serve no practical function, but are highly decorative.
It is the careful placement of objects in relationship to plants, paths and steps that make ornaments successful.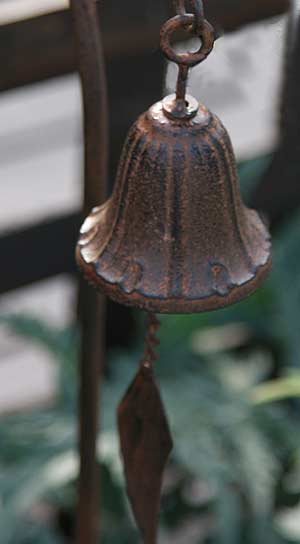 Metal Garden Ornaments
Lots of metal garden ornaments are available, not all are really suitable for use outdoors due to corrosion problems, however a number of material do have longer lasting qualities.
For many years cast iron and galvanised iron were the two metals used outdoors, today we have stainless steel, aluminium as well as the long lasting 'Corten steel' all suitable metals for outdoor ornaments.
Some garden situations may require coating or painting to protect the metal, others will not.
Some wonderful laser cut ornamental screens are finding their way onto the market. Excellent for use as garden dividers or even as a fence.
Lots of smaller items are also available that can add interest in the garden including the ornamental bell pictured right.
Ornamental basalt sculpture
Large stone sculptures are impressive and long lasting garden ornaments.
Ornaments for outdoor spaces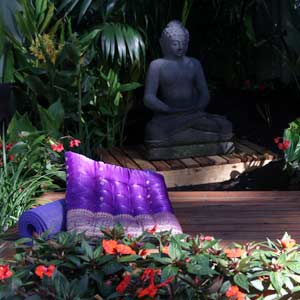 And as we try to create unified outdoor living spaces if we can carefully add ornaments, the right plants and the right garden accessories, what could have been an ordinary outdoor living area becomes a tropical paradise.
Hers we have a combination of elements that tie together well to crest the idea of a Balinese style garden. The essential elements include.
The timber decking
Lush foliage plants to create a tropical feel
The large statue in the background, surrounded by foliage.
Colorful flowers
Brightly colored cushions and mat, that invite us to sit and relax.
The plants are an important part of the design, however it is the large statue in the background that ties the whole design idea together.