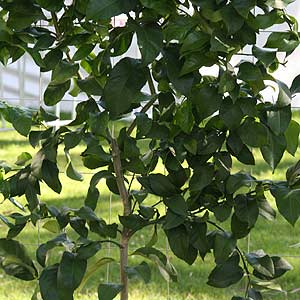 Used widely as a means of supporting plants as well as a method of providing a screen Garden trellis will allow some privacy in the garden.
Found in arbors as a screen and Japanese Garden design, both antique and modern garden trellis designs are available in many materials including timber bamboo and metal, wire and PVC.
Garden trellis has been traditionally made from timber and often painted. Trellis is used widely in the garden to support plants and help provide privacy.
Garden Trellis Materials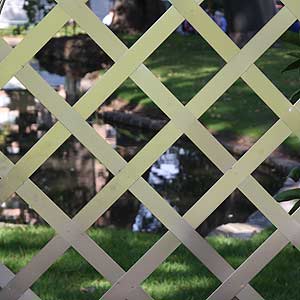 When choosing garden trellis it is important to consider both the aesthetic value and the long lasting qualities. Each material has a different set of values, depending on the use.
Painted Timber Garden Trellis
Raw Preserved Timber garden trellis
Metal and Iron
Wire Garden Trellis
PVC Garden Trellis
Using Garden Trellis
How to use it with plants
It is important to remember not to weave plants through garden trellis.
Plants should be attached with long lasting plant ties.
If plants are woven through trellis they become difficult to prune and as they grow and the branches expand they can actually push the trellis apart.
Garden trellis is often used to construct a garden arbor. Metal garden trellis is becoming increasingly popular with garden designers. Plans for garden trellis arbors are readily available from hardware stores and garden nurseries.
Garden Trellis Designs

Contemporary garden trellis
Often contemporary garden trellis is more like wall art that plants can be attached to. The options are limitless here, most good landscapers can come up with a number of materials suitable for a contemporary look, if you are looking for something really individual maybe try your local graphic designer.


Antique Garden Trellis.
Usually reproduction metal or cast iron lace type garden trellis. Often painted in what are termed Antique Colors, such as Antique White, Green to give the trellis a rustic look. Antique styled garden trellis can be costly, however it also provides a unique look.


Japanese Garden Trellis

Often just made from Bamboo, however it is the design that is important with Japanese Garden trellis. Make sure construction is solid and joints are well made. Can often be a curved trellis with an open structure on top.

Garden trellis is popular in the following states : Oregon, Washington, Wisconsin, Minnesota, Louisiana, Maine, Georgia, Utah, North Carolina, South Carolina, Michigan, Rhode Island, Louisiana, Virginia and Maryland.
Garden Trellis is very popular for use with climbing plants such as sweet peas, clematis and roses.