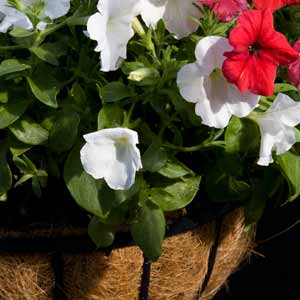 If you are looking for ideas for plants for growing in hanging baskets, then you are in for a very wide choice. Although you will be limited by the size of the basket itself you can grow a wide range of plants from permanent plantings such as Ferns and Orchids through to seasonal plants such as annuals.
Hanging baskets are really just another container for growing plants, a very popular way to grow and display a wide range of plants.
Well suited to patios and small spaces hanging baskets, one of the ideas in using them is to allow plants to grow at eye level for maximum impact.
Hanging baskets for flowers and plants are a popular way to display plants on patios indoors and in areas with limited space.
Suited to a wide range of flowers and plants hanging baskets are usually based on a wire basket with a liner.
Hanging Basket care
Hanging basket stands or supports are a great way to display a number of hanging baskets at different levels in the one area. 2 to 5 tiered stands are available from Garden Centres. Stands and supports are also available that allow a number of baskets to hang in a group, a great way to create a 'massed planting' and save space and allow easy access for care.
Hanging Basket Liners are used to line the wire basket. Liners are specially made from materials including coco peat or 'coconut fibre liners' and felt. Liners are designed to be water retentive.
Watering Hanging Baskets can be made simple with a drip irrigation system and as hanging baskets require a fair bit of water this can be a real time saver. However, most hanging baskets are hand watered.
It is important to realise that they can leak a little water if to much is added, drip trays are available to prevent spillage, or you can take plants to an appropriate area for deep watering if required.
Fertilizing hanging baskets is the same as for other plants, except in general you need use less fertilizer and try to use odour free types if the baskets are in enclosed patios.
Plants for hanging baskets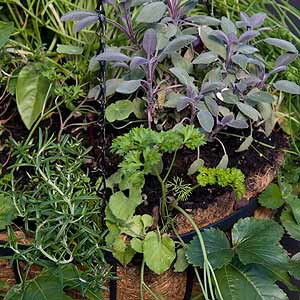 A wide variety of plants and flowers are suited to growing in hanging baskets and trailing plants are a favourite, you can create your own mini hanging garden if you choose the right plants.
So foliage that is allowed to cascade down looks great.
Upright plants can also work well depending on the height that the hanging basket is set at.
Planting ideas for hanging baskets include :
Succulents,
Herbs,
Miniature roses,
Trailing fuchsias,
Strawberry plants and even
Bulbs such as daffodils can also be grown in hanging baskets.